Sep 22, 2023 / Village Voice
Posted by: Kristian Partington
It's one of those picture-perfect mid-September afternoons in Waterloo's north-end. The sky is soft blue with barely a cloud in sight and the warmth of the sun makes it the perfect day for a Fall carnival outside The Village at University Gates.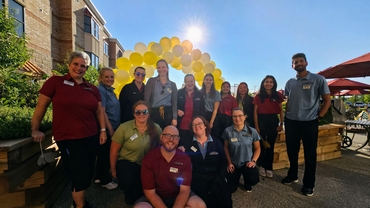 At the main entrance of the Retirement neighbourhoods, a couple walks in and looks around. It's their first time in the Village and they've arrived for a tour. "This is a busy place," the woman says as she looks past the Town Square and the full Williamsburg dining area to the outside gardens packed with the carnival atmosphere. She asks where she might find the Welcome Centre, and a team member offers to show the way and they walk along Main Street, glancing outside as a resident hits the mark on a dunk tank sending a team member plunging into the cool water.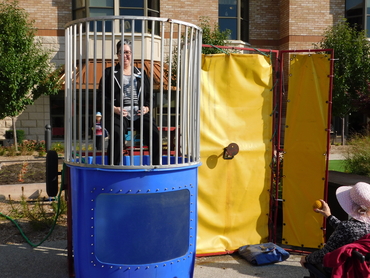 Laughter fills the air – it never gets old seeing someone suddenly shocked by the soaking of a dunk tank, even though it's expected with every throw.
When many people picture a "retirement home", such vibrant activity isn't likely top of mind, and the couple who've come for the tour are pleasantly surprised.
Outside, residents and team members are active together. Village leaders are manning the different games and activities freeing other team members to support residents from both long-term care and the retirement neighbourhoods to be sure everyone who wants to participate is able.
Wilhelmina (Willy) is walking arm an arm with a team member named Frida, simply enjoying all the activity around her, and she stops to watch a fellow resident named Walter practicing his skills along the putting green.
Walter is always at the putting green, another resident says.
Barely a minute later, Walter sinks a 53-foot putt – his 23rd for this season from that distance. 
"Last year, my record was 35 from this spot," he says, "but I was younger then. I'm 90 now, you know."
Walter says he's happy to be part of the community at University Gates, and the activity around him this day, while a special occasion, is really just an extension of what most days are like in The Village.
"Inside," he says, "you will find nothing but beautiful people."
That is certainly worth celebrating on a gorgeous fall afternoon.
Incidentally, the couple that toured the Village say they plan to return the following week to experience the restaurant-like atmosphere at The Ruby upon the 10th Floor, and they intend to reserve a space in the Village for when they're ready to make a move.