Aug 01, 2019 / Village Voice
Posted by: Kristian Partington
Across Schlegel Villages, events and small fundraisers are organically underway as a team of select Schlegel Ambassadors work towards funding their upcoming adventures in Haiti. In Early 2020, this fourth cohort will land in Port-au-Prince to deepen the connection between Schlegel Villages, Fonkoze's Chemen Lavi Miyò (CLM) team and the women and families in rural Haiti supported through the remarkable program. 

During the 2018 voyage to Haiti, Schlegel Ambassadors had
many opportunities to connect with those who benefit most 
from the Chemen Lavi Miyò program. 
While these many events are fuelling the upcoming educational voyage, the organizational Hand up Fore Haiti golf tournament directly in support of CLM will take place Sept. 5 at Mount Elgin Golfers Club. 
In the past two years close to $80,000 has been donated through a partnership with Mennonite Economic Development Associates because of this annual tournament, and organizers are hopeful that another $40,000 will be raised at this 3rd event.
These funds goes directly towards the operational needs of the CLM program, ensuring its dedicated team can continue to work alongside some of the poverty-stricken country's most vulnerable families. CLM addresses the needs of ultra-poor women who struggle on the margins of their communities, supporting them over the course of 18 months as they learn new skills to provide for their families.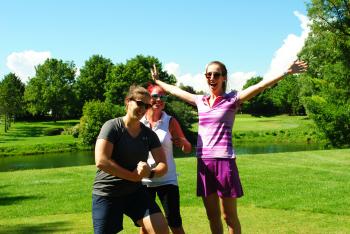 The annual golf tournament is a fun way to support the cause. 
"The funds raised through these events make an impact far greater than you can possibly imagine and far greater than I can convey to you today," says Candace Manwaring, who visited Haiti in 2014, 2016 and 2018. "When one woman in Haiti is given the opportunity to participate in the CLM program, she changes the future for her children and the community around her."
The success the program is undeniable, and the lives of thousands of families have been transformed thanks to CLM. Schlegel Villages, through eight years of support, has contributed more than $300,000 to the cause, and the three voyages to the Caribbean nation since 2014 have ensured the relationship continues to grow stronger. 
The organizers of the Hand up Fore Haiti golf tournament are looking for players, teams and volunteers. Click here for more information or e-mail Melanie James at melanie.james@schlegelvillages.com.