Nearly 200 research and innovation champions gather for annual summit
Over the course of two days in the middle of June, the 3rd annual Schlegel Villages/RIA Innovation Summit brought nearly 200 people from across both organizations into the conference rooms of Kitchener's Holiday Inn.
Along with representatives of several partner organizations and vendors, these champions of research and innovation are driven by a common desire to enhance lives in an aging population. They seek to improve life quality not only for residents of long-term care or retirement settings, but also those aging independently in community.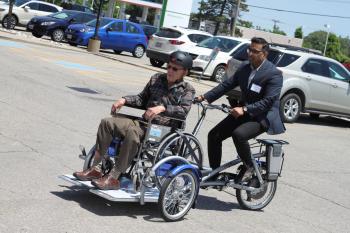 Innovation, however, can be a tricky thing to pin down. People today tend to want immediate gratification and results they can identify and capitalize upon quickly. In some ways, this is an entirely reasonable expectation – a new product, for example, can help disinfect home areas and lessen the risk of spreading infections, showing results quite readily.
More typically, however, innovation is an ongoing process whereby each new advance is built upon the successes or failures of explorations past. Schlegel Villages Chief Operating Officer Paul Brown reminded the gathered audience of this reality when he welcomed them on the morning of Day 1. He pointed to the creation of the iPhone to illustrate his point. Considered by many to be one of the most innovative consumer products to hit the markets this century, the iPhone is simply a packaged collection of inventions dating back decades and even centuries.
"In the components themselves, there was actually nothing new in the iPhone," Paul said, "but the way Apple looked at how to use existing components and parts and put them together in a much different way than has ever been experienced before was the actual innovative genius."
In his opening remarks, Paul urged the research and innovation champions gathered for the 2017 summit to keep this in mind as they look to the future of care and support for the residents they serve and the aging people of our communities. Innovative success sometimes comes one step at a time.
Dr. Jennifer Boger, the RIA's Schlegel Chair in Technology for Independent Living, reiterated this point on Day 2 as she and her fellow new RIA research colleagues updated summit attendees on their individual fields of study. As a researcher, Jennifer builds bridges between technology and application, always asking: "How can we use technology to change the paradigm of care?"
She cautions that, especially in her field which includes high-tech areas such as virtual reality, many of the questions she asks may not yield answers for many months or even years, while the actual impact on lives may only be felt a generation down the road.
"We're trying to push systems change," Jennifer said. "We're trying to change the way things are done and you (the team members and direct care partners) are integral to this process."
"You're helping to build the things that are coming five or 10 years down the road."
By working together, seniors, researchers and direct care partners can identify deficits and seek solutions together. The 3rd annual Innovation Summit was the physical manifestation of the commitment to always be better, to always work to create the individual components of change that will potentially revolutionize the way we care for our aging populations.
Watch for more stories to come . . .