With the Toronto skyline sweeping along the north shore of Lake Ontario under the perfect twilight of a hot summer's eve, Schlegel Villages team members were honoured in a unique and fitting manner. Upon the a 118-foot yacht, Yankee Lady IV, a collection of team members, families and residents from 16 villages joined community partners to raise some $25,000 for the Wilfred Schlegel Hope Fund.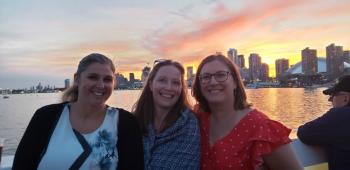 They floated the calm waters of Toronto Harbour sharing fine food and drink, but in the back of every mind each person understood that at some point in the future, a team member facing difficult challenges may find a bit of hope thanks to the efforts of this evening. This Hope Fund is all about the team members; across the organization any team member can contribute whatever they can with every dollar matched by the Schlegel family up to $50,000 a year. The funds remain in a pool to be accessed as needed by team members facing the difficult challenges that all too often burden us in life – the devastation of sudden loss or an illness in the family, for example.
The Village of Riverside Glen, which has seen the spirits of its own team members lifted during dark times through the support of the benevolent fund, spearheaded the Boat4Hope cruise upon the harbour, and by all accounts it was a perfect evening and success beyond all measurement.
"It was an amazing experience," says Chris Poos, one of four Tansley Woods villagers who attended. "Kudos to the Riverside Glen team who really made themselves available throughout the cruise to really keep it organized, but also to engage everybody and to talk about the purpose."
He says it was natural how people understood the importance of a fund designed to support one another, and when the organization's founder Ron Schlegel spoke about how proud his father would be of the fund that bears his name, the entire cruise ship felt the warmth.
"That's the thing that makes the fund unique and so purpose-driven," Chris says. "It makes you proud to be associated with an organization that really cares about individuals. You're not just an employee number, you're an individual and you are valued as that . . . and this just makes it feel naturally that this is an extension of the Schlegel family."
The Village of Riverside Glen team with the stalwart support of General Manager Bryce McBain should be proud of the funds raised and their ability to draw so many people together in the name of a worthy cause.  
Nirmala Mery was among eight people from the Village of Erin Meadows to enjoy the evening and she echoes many of the attendees when she says any opportunity to show team members how valued they are is welcome. The Hope Fund is an exceptional way to do that.
"We're part of the same cause," Nirmala says.  "The purpose is across all the villages. Part of our philosophy is we put people first, and this includes our team and it was just nice to see everybody there for the same cause and enjoying each other's company."