Carrie and her two sons are happy to be together once again
When a family that has supported each other through decades of life's ups and downs and sorrows and triumphs is separated because health challenges require it, it's imperative that they are reunited as soon as possible. Carrie Sutton and her sons, Robert and Jack, know this all too well.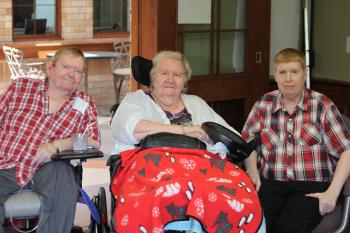 All three need the support of a long-term care environment and Carrie's first choice was the Village of Sandalwood Park in Brampton. After living a short time at another home, a place opened up for her in the village and in early 2015, she made the move.  
Jack and Robert, however, were each living in two other homes so the possibility of connecting all together for a visit was virtually impossible, not to mention that their sister, Mary, was navigating three separate LTC environments to support her loved ones. That's too much for any family, and the team at Sandalwood Park worked closely with the local Community Care Access Centre to bring the family back together.
"It was hard," Carrie says, looking back to the separate health complications that took her son Jack's leg and her mobility, effectively separating the family. "It was hard but we were managing."
When Jack was finally able to move into Sandalwood Park following Carrie and Robert, they were able to manage much better, though Jack smiles when he says it took him a week to adjust to the fact that there is so much space in the village. Carrie laughs when she says now she doesn't have to worry about remembering to phone him once a week – she can take a quick ride down Main Street to have a visit in person now and they can share a meal together whenever they wish.
It's important, say the Suttons, that family stays together, and they're thankful that with the support of the team at the village and the CCAC, they were reunited.