Mar 05, 2021 / Village Voice
Posted by: Kristian Partington
To be a nurse is to answer a calling. There is an inherent kindness and compassion mixed with a desire to do anything possible to make the life of someone else a little easier. The RPNs who come alongside the residents of Schlegel Villages seem to bring even more of themselves, for they are not only comforting or healing but, perhaps more importantly, forging relationships that make life more meaningful on both ends.
In acute care settings, the kindness and skill of a nurse is just as critical, but the relationships are fleeting in the realm of patient and nurse. Within Schlegel Villages, relationships are foundational and RPNs, in many ways, are the mortar that binds relationship with clinical care.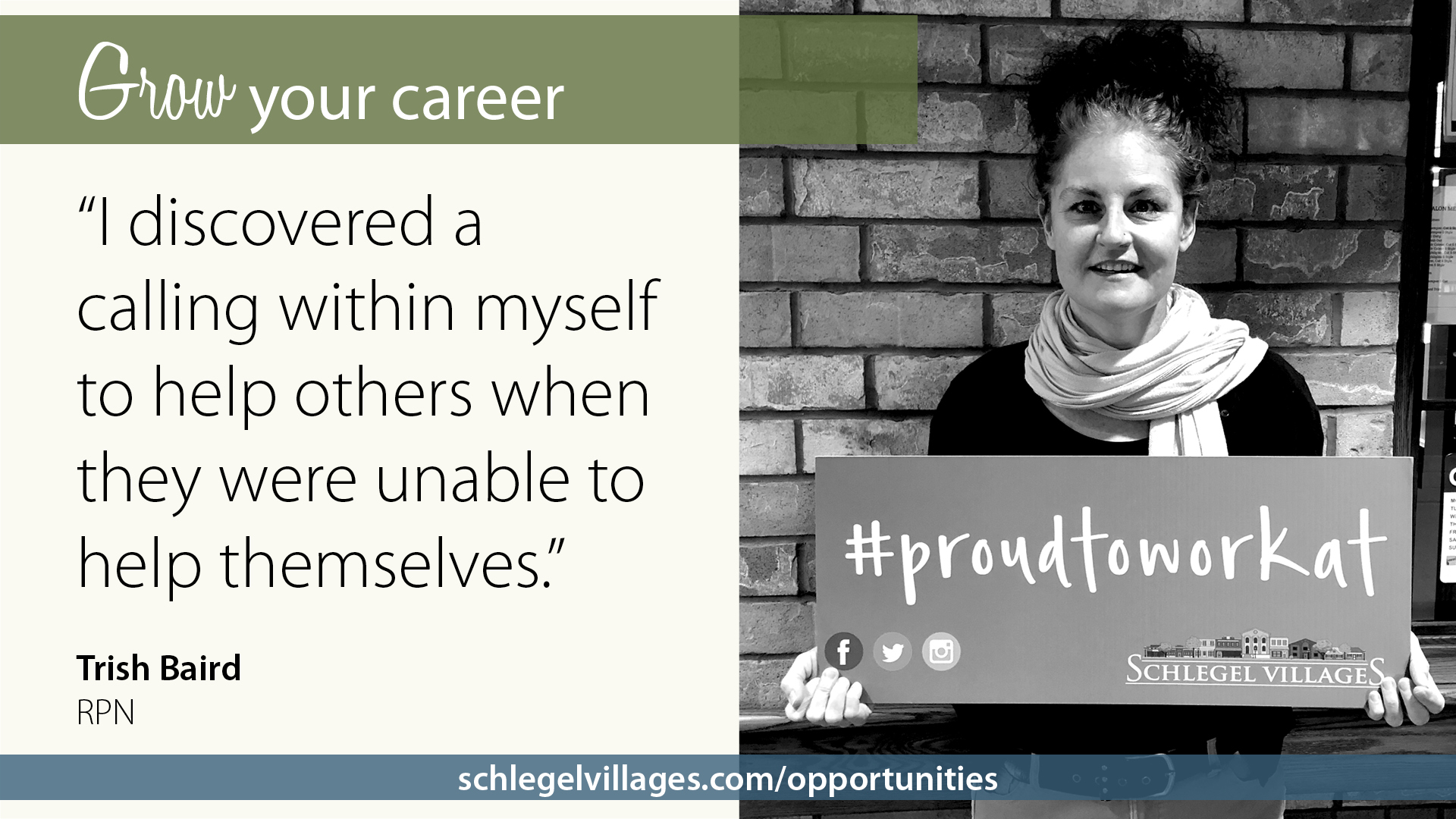 Trish Baird found this almost immediately as part of Conestoga College's practical nursing program in the Living Classroom attached to the Village at University Gates in Waterloo. She became a Personal Support Worker in order to help a loved one through a serious illness and instantly knew she wanted to do more to care for others. Through the Living Classroom and the hands-on experience, she gained alongside the Village residents, she knew she was home as an RPN.
"The impact both the Living Classroom and Schlegel Villages had on me while I was becoming a nurse are the main reasons why I work with seniors today," Trish says, "and would not want to be employed with any other organization."
As part of the team that helped open the new retirement neighbourhoods at University Gates in the midst of the COVID-19 pandemic, she often reflects on the residents she serves, especially when the days are difficult.
"When I am having one of those tougher days, I often think back to our first resident move-in and how happy the couple was to finally get to their forever home," Trish says. "The smiles on their faces and the excitement they came with that day often remind me of why I am a nurse and why I chose Schlegel Villages to be my home as well."
Eric Boampong is a RPN at Toronto's Fairview Nursing Home and the lead for the Personal Expressions Resource Team. He agrees with a holistic approach to nursing care, but says it extends beyond the relationship with residents to tap into connections with their loved ones. "A great nurse helps not just the seniors under care but also the families that are related," Eric says. They help others make sense of life changes that are often complex in understanding, and he finds that some of the wisdom he gains in this regard comes from the residents themselves.
"Our seniors are full of wisdom, which they pass on to whomever is willing to stop and listen," Eric says.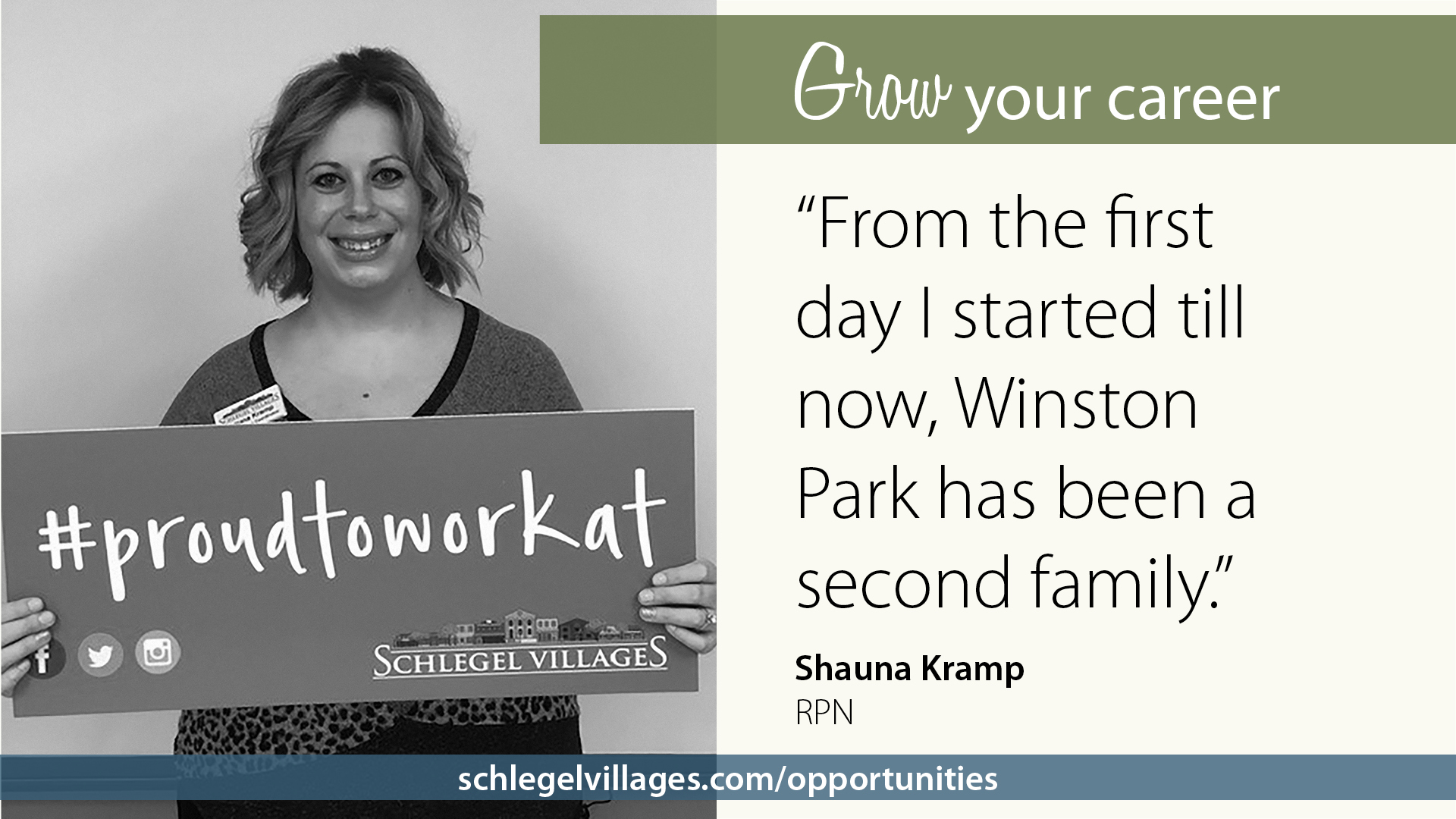 Shauna Kramp agrees and see this every day. She returned to The Village of Winston Park to answer the calling of need for a Wellness Coordinator during the pandemic. She had been part of the Winston Park team since 2006, learning and growing in several roles, before helping open the new retirement Village at University Gates. It was really only after she left Winston Park, however, that she realized it is her true home, and she was happy to return in December 2020.
Shauna's connection to caring was passed down through generations, she says, first at a young age in her relationship with her only living grandparent then, through her mother, a nurse who also once worked at Winston Park.
As a RPN, "I realized that I could build relationships with the residents and help make a difference," Shauna says, noting the hands-on approach to support is one of things she values most about the role. "It's nice coming to the village and knowing a resident has chosen to live here and I have the pleasure of supporting them while they age in place."
She, too, thrives on the wisdom passed down through her relationships.
"It's interesting getting to know residents on a personal level and how much they can teach us about their life experiences," Shauna says. "They have so much wisdom to share."
The life of every Schlegel Villages resident truly is a journey, but so it is for team members, as well. Along the way, there are lessons learned about love, loss, and the legacy of meaningful human connection, and the RPNs that grace the Villages with their compassion are the spirit of that legacy.