Sep 10, 2019 / Village Voice
Posted by: Kristian Partington
There's nothing quite like a wedding celebration to bring family together, so when William Montgomery said his vows and married the love of his life, he wanted his family from Pinehaven Nursing Home in Waterloo to be part of it. Logistics and space, however, meant he couldn't invite the residents he serves as a Personal Support Worker to physically be at the wedding, but he could harness technology and the help of his fellow Pinehaven team members to bring the wedding to them via live stream.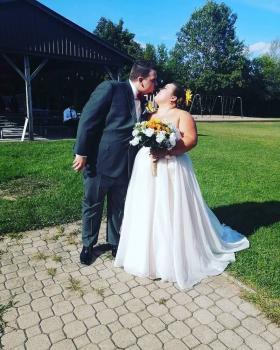 Residents at Pinehaven cheered when Will, a
beloved PSW, kissed his bride 
Recreation team member Luis Barrera led the coordination of the event that late-August Saturday, and he was proud to be given such an important task. The residents are close to Will, he says, and he wanted to make sure the day would be as special for them as it would be for him.
The home was decorated for a wedding and the place was abuzz with excitement as residents awaited the connection to Will's big day. A few technical glitches nearly usurped the entire Pinehaven view of the ceremony, however, but some quick thinking and coordinated efforts between Luis and a fellow team member who was at the wedding brought everything online just before the vows. The gathered residents at Pinehaven erupted in applause, cheering will's name as they saw him upon the large screen.    
"It was wonderful to see one of our team members share a memorable occasion," says Louise, Pinehaven's residents' council president.  "I hooted and hollered when the pastor announced that they were husband and wife and also when Will kissed his bride."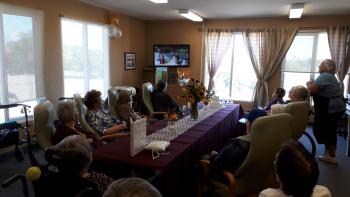 Residents and team members could watch the
wedding through live-streaming technology.
After the ceremony, the gathered residents spoke of their own wedding memories while sharing a wedding cake Luis brought in for the occasion. A day such as this offers a new appreciation for the close connections this small home offers both team members and residents, and a sense of that community filled the air.
"Everybody's connected here," Luis says. "We talk about our experiences, what we're going through good or bad, and we support each other emotionally." Will's wedding day offered an opportunity for that support to shine through, and the Groom was more than happy the receive that love.
"Sharing this day with the residents at Pinehaven was one of the best parts of my wedding day," Will says. "The residents have been like family to me, so sharing this special day with them meant the world to my wife and I. 
"A big thank you to Luis for putting together such a wonderful day."