The basement in The Village of Tansley Woods is a hive of activity. Team members on break share stories over coffee and light snacks, while not far away the kitchen hums with busyness as lunch is prepared for village residents.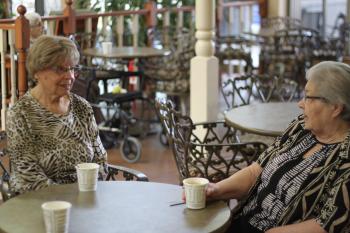 Mary Simeoni and Tina Vandermolen are in the team room as well. They've come down from their suites upstairs as they do three days a week to offer their service to the "kids" in the kitchen.
Mary and Tina have come to be close friends in large part because of the time they spend volunteering together in the kitchen. They share much in common, especially the fact that both lost their husbands after moving into the village and soon after found their days were painfully long in the shadow of grief.
"I was beside myself," Mary says, "so to clear my head, to make me feel better and that I was doing something for myself to get myself back on my feet, I went to Joanna (Gurd, the village general manger) and I asked Joanna, 'Is there something I can do?' "
Joanna knew Mary liked to cook and had done so for large groups in the Italian family she married into; she's also had been part of the team preparing canned goods and salsas for sale in the Christmas bazaar, so Joanna suggested she help the team in the kitchen.
Tina's story is quite similar. She's a busy person who found she had plenty of time on her hands after her husband passed in the fall of 2017, and like Mary she needed to find a new sense of motivation. Supporting the team in the kitchen provides this for both women, and they treat it like any job. Safe food handling and cleanliness are of utmost importance, they say, and three times a week they are at the service of the kitchen team.
The connections they've built with the "kids in the kitchen," as Mary calls the team, are perhaps some of the greatest benefits of the volunteer work. They might never have come to know these people otherwise, for the kitchen team isn't always able to spend quality time with residents. Now they've become friends.
"They turn on their cellphones and the music is going and they're singing and dancing away and they're all happy-go-lucky," Mary says, painting an image from her mind of a typical day in the kitchen prepping hundreds of meals. "It's a wonderful place to be."
"I absolutely agree," Tina chimes in. "To meet younger people makes you feel better and it's satisfying for me to do something, to be useful."
Tina and Mary know there are countless other residents like them at Tansley Woods and the other Schlegel Villages, as well as retirement homes in all the neighbouring communities, who are facing difficult transitions in life.
Their advice to their fellow residents is to take a chance and seize new opportunities to find motivation as they did, for in doing so life takes on a different sense of purpose and new friendships are bound to flourish.