May 05, 2022 / Village Voice
Posted by: Kristian Partington
Caregivers' Week is a new concept for Cheryl Janssen.
She's a nurse first and foremost and spent the early part of her career in the service of seniors as a clinician, before exploring leadership roles and Human Resources in different aspects in the healthcare field.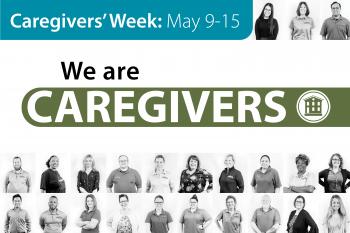 She joined Schlegel Villages in the fall of 2021 in a new capacity as Director of People Engagement with the Support Office serving every Village to ensure all team members are getting the most out of their experience in Village life.
She was immediately drawn to the idea that at Schlegel Villages, every team member plays an important role in the care and service of residents and the lines between roles in Village life aren't drawn in sharp contrast, as is the case within many other organizations.  
"I love the idea of celebrating Caregivers' Week because regardless of your job title, our roles are to be caregivers," Cheryl says. As a nurse, she has always appreciated the nod to pioneers like Florence Nightingale and the homage paid to such an important profession during Nurses' Week, "but in my heart, I'm a caregiver, regardless of my nursing or HR title."
Like so many team members she's met since joining the Schlegel Family, she landed in senior's living as a young person vying for her first "real" job. She joined a small home as a dietary aide and quickly shifted her focus away from her goal to become an attorney towards nursing, and her path has been written since.
At Schlegel Villages, she's seen a true sense of teamwork come to life, echoed most often in the feedback she receives from team members in the course of ongoing discussions about engagement and satisfaction.
"They feel a sense of responsibility, accountability and care and concern for so much more than their actual shift routines," Cheryl says. That's not to say they aren't focused on the necessary contributions to the Village they are accountable for, she adds, just that "they feel a shared sense of responsibility to care for the residents. 
"When we talk about being an organization that's focused on being serving leaders, I have never seen it at play the way it is here," she adds.
This is why Caregivers' Week is not separated and divided at Schlegel Villages, as every contribution from every team member makes a difference in the lives of those we serve.
We are, all of us as, caregivers in the service of others.