Dec 10, 2020 / Village Voice
Posted by: Kristian Partington
Lynn Roy retired from her position as a corporate executive in the Spring of 2019 only to quickly discover that the transition from busy days managing people across the country to filling much less busy days after leaving the job wasn't quite what she was expecting.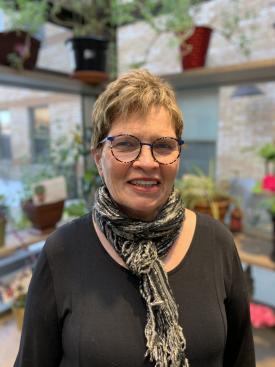 Lynn is proud to be a source of connection for
residents of the Village at University Gates.
She quickly offered herself as a volunteer to The Village at University Gates Long-Term Care home in Waterloo "and loved it;" she says. "I just love the people and the culture of Schlegel Villages and the residents, they just make you feel so good."
It's after lunch on a sunny, early autumn day in 2020 as she recounts her journey. She's just come back from a walk with a resident around the outside of the Village, which has since opened a collection of retirement suites as well, and she's reflecting on her journey through retirement into volunteering and eventually, into a role supporting many aspects of life through the challenges of COVID-19.
Looking at her career path through life, she recalls a book she once read that discusses in the second half of one's career moving from 'success' to 'significance'; it's a perspective that redefines perceptions of what it means to offer your value to others.
"To come here and feel like you're doing something significant is just eye opening," Lynn says, mentioning that she supported her father in his final months of life when he lived in a different long-term care home. The culture at University Gates is something her daughter Taylor, who works in the Village, has always spoke highly of so when Lynn wanted to serve others, it was an obvious move.
She was immediately right at home, easily making meaningful connections with residents and eager to do anything required to make their lives and those of the team members as easy and comfortable as possible. Then COVID-19 threw everything into turmoil and along with other volunteers and family members, regulations under the first wave kept her from being able to serve.

Of course, proper mask wearing 
is a must, not only in The Village, 
but out in the community as well. 
She was able to take on a part-time position, eventually, which allowed her to once again be in the Village. She is now the Village's volunteer coordinator but when there are no volunteers to disperse, she is that extra pair of hands for anything that might be needed. She can cover the screening table if needed, ensuring everyone who enters is safely able to do so, but sometimes she walks with residents or sits and simply visits, often sharing individual faith-based conversations.
She was and is a connection for others when the connections they had grown accustomed to are more difficult to find. She benefits from her time in the Village as much as anyone, however, and she's proud to serve in long-term care at a time when the sector is facing such challenges.
"This is my second act," Lynn says, "being with these folks and learning so much from them." She finds inspiration in their resilience as well as in the skills and dedication of the people she now works alongside. She may have started by giving the gift of her time, but Lynn seems to be the truest beneficiary in the transaction today.