The team at Coleman Care Centre makes the home, says family member
By Kristian Partington
Doris Kottik and her daughter, Lin, are sitting over a scrabble board in a bright room at the far end of the eastern hall at Coleman Care Centre. The winter sun pours in over the green of the many plants that fill the space, and it's somewhat surprising that they are the only two people sitting there.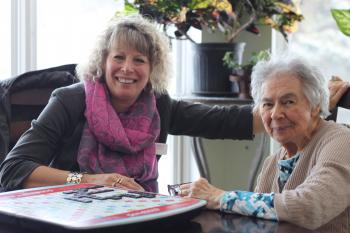 They seem to enjoy the quiet, however, as they spend this time together. Since Doris moved to Coleman from a different home in Toronto's West end, she has been able to spend much more time with her daughter, considering Lin's home is a mere five minutes away. The commute to Toronto for a visit was a nightmare compared to what she knows now, says Lin, and she only wishes now she hadn't wasted time facilitating the move. 
Looking back to that decision and the effort it took to move her mother closer, Lin is embarrassed to say that she discounted Coleman many times. "I was new to this sort of thing so I was very unfamiliar," she says, admitting she made the mistake of placing too much stock in the physical aspects of Coleman's 40-year-old layout, which lacks for many of the fancy bells and whistles of newer seniors-care designs.
Doris's name was on the list awaiting space in some of the newer, "fancy" places around Barrie, Lin says, but there was no progress. She has friends who work in the sector, however, and one of them offered some sound advice as they discussed the challenge of finding the perfect place for Doris. " 'The main thing you need to know is staff is most important,' " Lin recalls her friend advising, " 'not the visuals.'
"I'd never looked at it that way," Lin says, so she revisited Coleman and was instantly able to see the personality of the team at play in each member's interaction with those they served. The decision was then easy to make and her mother moved in late summer.  
That first day as Doris tried to get her bearings in her new home, Lin remembers team members excitedly introducing themselves. People from dietary and housekeeping, Personal Support Workers and nurses – all of the care partners were genuinely interested in Doris and Lin's story.
"I knew then that we'd made the right decision," Lin says, noting that the home's smaller size creates more opportunities for meaningful connections among the team, residents and families. 
As Doris tries to convince her daughter that "razer" is a word for a few extra points in Scrabble, I ask her what she likes about living at Coleman care centre. Scrabble and Bingo are high on her list, she says, as is her time with the Java Music Club, where residents gather for weekly mutual support meetings that use music a means of opening up discussion about some of life's challenges and opportunities.
"And I like to dance," Doris says. Lin explains that her parents were semi-professional square dancers in their younger days, and as a girl she remembers them decked out in their outfits practicing in the basement.
At 90, music still inspires that spark in Doris and when a song breaks out, she's not afraid to get up and move. This crisp winter's day, however, she's pretty laid back; the sun shines through the solarium windows, and Doris and Lin share a quiet game together, content in the simplicity and comfort they've found at Coleman Care Centre.