Jan 16, 2020 / Village Voice
Posted by: Kristian Partington
Through the farmland and backroads northwest of Waterloo lies the Village of Wellesley, where the simplicity of country living and the sense of community that thrives in rural Ontario created lasting memories for a close group of people that now call The Village of Winston Park home.  

Lloyd, Ruth, Norma, Lois and Mervin at Winston Park.
It's funny how life can come full circle over the course of decades, and as this group reminisces together in the library at Winston Park, they make note of the fact that it's nice to be together again.
Lloyd and Ruth were married 68 years ago and across the table from them is Lois and Mervin, who've been married for 67 years. Mervin, who happens to be Lloyd's cousin, was the best man when Lloyd and Ruth were wed, and Lloyd's younger sister Norma recalls how wonderful it was to be inspired by the love she felt when she watched those marriages unfold. Norma found her own life partner in her beloved Arthur, with whom she shared her life until his passing in early 2018. It was Norma and Arthur who first moved to Winston Park at his suggestion, for his health was beginning to fail and he wanted to be sure his wife would be cared for after he was unable to do so.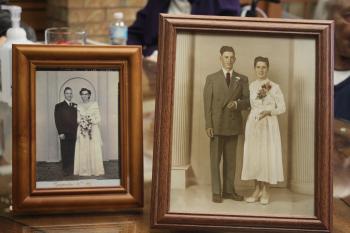 Lloyd and Ruth alongside Mervin and Lois on their 
respective wedding days. 
"Whoever thought we'd end up together in a place like this," Ruth says with a laugh when they begin telling stories of their younger selves embarking on the wild journey of life together in the early 1950s.
There was always lots of music in those days, they recall. Mervin played bluegrass music in a band and Lloyd could always keep up with them around a fire or a kitchen table. Mervin never stopped playing music, in fact, and he and his band entertained residents at Winston Park long before he ever considered moving to The Village himself.
"We'd been coming here for years," Lois says," and never in my life did I ever think we'd live here." But the house Mervin built in Wellesley on a double lot – the house they raised their family in – was beginning to be too much for them to keep up and they began looking for a new home. Of all the places they considered, Winston Park had all they needed, and they knew Norma and Art would be close by.

Mervin and Lois are quite content in The Village of Winston Park. 
It was a fluke, Lloyd says, that when he and Ruth were looking for a new home at Winston Park they discovered their old friends and family were also living in The Village. Now they say it's not unlike the Wellesley they remember from decades ago.
"The people here are nice and polite," Lloyd says. "Hardly anybody walks past you without saying 'hello', which is very good."
Mervin nods his head in agreement. "I find it's more or less like a family," he says. "When we got here there were a lot of people we didn't know, but we got to know them and now it's a whole atmosphere of friends."  
Around the library table, this group of five share stories from the past and though their laughter it's clear just how special this type of friendship is. They once called the Village of Wellesley home and that's where it all began. They now call a new Village home, and they seem just as happy as ever.