Annual Innovation Summit explores the enlightenment that can arise from failure
By Kristian Partington
It's a pretty rare thing for a health care organization to talk about failure, yet when more than 200 people gathered for the 2nd annual Schlegel Villages/RIA Innovation Summit at the Pearson Convention Centre in Brampton June 15-16, failure was the first topic of discussion.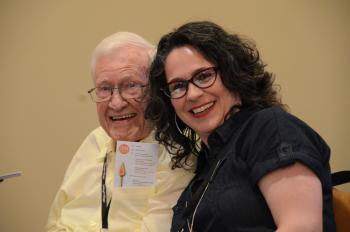 As Schlegel Villages chief operating officer Paul Brown said during his welcoming remarks, "the best approach to senior living has yet to be invented." Innovation, he said, "is the never-ending desire to do better," but in order to be truly innovative, an organization must be willing to step outside of the comfort zone, take chances on the execution of creative thought and yes, risk failure.
This is why Dr. Joshua Tepper, a family physician and the president and CEO of Health Quality Ontario was asked to share a keynote address with the attendees focused on the taboo topic of failure, as seen by the current health care sector. One can't have a summit about innovation without talking about failure, Dr. Tepper told the audience, because if failure can't be acknowledged then it is practically impossible to commit to doing better.
The overarching purpose of the Innovation Summit is for team members from all corners of the villages to gather alongside researchers to learn from each other. By sharing their successes and failures, attendees challenge each other to continue the pursuit of quality improvement in the support the residents of the villages receive and, by extension, improve the lives of older adults everywhere.
One of the first challenges, Dr Tepper said, is to establish a shared understanding of what quality truly looks like. "You're a large organization," he said, "and part of what we want to do, as an organization, is to do better, to improve the quality of care that you're doing every day, but if you don't actually have a shared understanding of what that is, it's like a tower of Babel – people aren't talking to each other in a meaningful way."
Progress is made when that definition of quality is broken down so people can focus on improving various aspects – efficiency, resident-centredness or safety, for example. Dr. Tepper was quick to point out, as he continued, that failure is much different than a making a mistake, and when innovation is the focus and people are challenging themselves to try new approaches, they must keep this in mind.
"Failure is a lack of success or a desired outcome," he said. "Failure is an action or judgment that is wrong or misguided, or failure repeated, doing the same thing over and over again hoping for a different outcome."
"If we can't talk about failure, then we fail twice."
But in health care, there is an inherent, ingrained fear of failure and an unwillingness to acknowledge it. The stakes are high, for life and death are on the line, so there is a fear of liability and legal accountability and the perpetuation of stigma, often through the mainstream media.
Yet, through trial and error, some of the greatest innovations are born and the immense health care sector, which must continually strive to integrate new technologies and approaches to the millions it serves, must not be afraid to be up front about their attempts to improve lives, even if failure is part of that conversation. 
Dr. Tepper pointed to Engineers Without Borders as an example of what is possible. This is an organization that attempts in countless ways to improve lives for marginalized people around the world. There are many successes, which the organization rightly celebrates, but there are also failures – some with dire consequences. They don't hide or disguise these failures; they own them, Dr. Tepper explained. They share them openly with the public and they hold conferences to discuss them and learn from them and through this process, they create new paths towards innovation and continual improvement. 
Health care can learn from this example, and Dr. Tepper was inspired to be in the room with more than 200 leaders and change agents who were willing to have this discussion as part of the quest to do better.
"I think it's fantastic that you take this time to bring leadership together to talk about the opportunities going forward," Dr. Tepper told the audience, and he challenged them not to fear failure but to grow from it, as those engineers have done.
Set explicit goals, he said, and try many goals at once, checking in early and regularly to determine if progress towards the desired outcome is being made. If not, things can be tweaked or the idea abandoned, if necessary, and from that failure, enlightenment can arise.