A story of perseverance and transformation from Riverside Glen
On a clear Thursday morning in Guelph, personal support workers Mandi McEwan and Jen Thompsen arrive in Mapleton neighbourhood at The Village of Riverside Glen with coffees in hand and bright smiles upon their faces. Even though it's their day off, they're happy to come into the neighbourhood to sit with Carl Woodworth and help share the story of inspiration he's offered them over the time they've come to know him.
When Carl first moved into The Village in the fall of 2016, he'd been struggling with a few complex health issues, compounded by the ongoing symptoms of dementia and a tumor affecting his brain. He was unsteady on his feet when he arrived, but with a walker could manage, though that didn't last long. His health declined quickly. Within a couple of months he was in a wheelchair and as his physical health failed, so too did his emotional and mental wellbeing. The pleasantries of his good nature, humour and contagious laughter faded with the last throes of winter and the tumor in his brain had sent him to hospital. When he returned, Carl was deemed palliative. He'd come back to The Village to be made comfortable in his final stages, and doctors said nothing more.
But there was still a spark of life in him and the two ladies who sit with him this clear Thursday morning saw it. Along with their fellow neighbourhood team members, they nurtured the spark and watched as Carl slowly came back to them. There was no pressure or expectations, only a series of small, personal connections to be made in each moment of every day, and moment-by-moment, day-by-day, Carl began to improve.
"Perseverance," says Mandi, considering one of the greatest things she's learned from Carl throughout the months, her eyes welling with moisture.
He chimes in: "Well I hope some of that is in me."
A look of surprise comes across her face. "It is in you!" she blasts back. "Are you kidding me? Carl, how many times did we say goodbye? I don't even know, but guess, what? I get to say hello way more than we ever said goodbye.
"That's perseverance.
"That makes me get up in the morning and think if I've got this little headache, well Carl can walk and I can get up and go to work. If you can be the way you were and still have a joke and a smile every day, then I think we can get through anything.
"That's what you taught me the most," Mandi concludes, a tear in her eye. "There are no obstacles we cannot climb."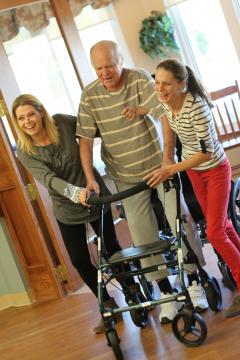 Jen nods in agreement and both women have hold of one of Carl's hands as they talk. Carl doesn't remember much of that period of time, but Jen and Mandi recall it vividly. At the time, Jen was struggling with some personal challenges and "for some reason," she says, "something in me decided to just spend a little bit more time with Carl and connect with him. When I look at Carl's life and what he's been through, if he can overcome and have the will and the perseverance and the courage and the fighting spirit to reach deep down inside, it made me look at my life. I saw something in him and he saw something in me, and that strength, well I got excited.
"He changed my life more than anybody else."
Carl is modest. "We can learn from anybody and everybody," he says with a glint in his eye. He can't explain where the turnaround came from, but he says the relationships he has with the people who support him certainly played a significant role. In long-term care, it's not too common for people to make such drastic improvements, but Jen and Mandi say with Carl, they see no plateau ahead. His goal was always to dance and run and with Mandi on one side and Jen on the other, Carl climbs out of his wheelchair. They all count off steps to a dozen and each one seems to leave behind the supposed certainty palliative care played in Carl's not-too-distant past.
He may not be running yet, but each step brings him a little closer, and he's happy to say he's not doing it alone. He's working within a community alongside friends he cares deeply for, and for that he's infinitely grateful.