The love and devotion Margaret and Ivan Stinson have for Canada is as vast as the country itself, and nearly as deep as the love they've held for each other over the decades, growing ever deeper by the day.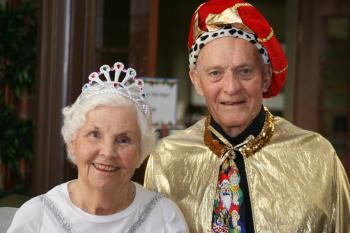 They've spent countless hours of their lives together working to enhance every corner of the country, both through their jobs as educators molding the potential in generations of young minds and through their volunteerism, which has known few boundaries over the years. 
It seems fitting, then, that to mark Canada's 150th year the Stinsons decided to organize a series of monthly seminars in the Town Hall at their home in The Village of Arbour Trails to discuss what makes the country they love so wonderful.
"Canada has to be put in the forefront and we must make a real effort for people to understand where they live," Margaret says.  "We also wanted to include the history so that people would understand why it's multi-cultural and why it's a mosaic and not a melting pot. We have to recognize that here at Arbour Trails, we have some of those rich cultures."
In January with the first seminars they started at the beginning of the birth of the new country with talks focused on the geography of the land and the industries that helped shaped its growth. Connecting the country by rail was a subject, as was connecting it via the Trans-Canada Trail nearly 150 years later. In the months that followed, attendance continued to grow as people from the neighbouring Village by the Arboretum began to show, and from the famous Group of Seven artists who put Canada on the map, to guest speakers from the Ontario Veterinary College, Margaret and Ivan have helped share snapshots of a vast and diverse land and her people.
There is so much to discuss that Margaret suggests this could be an ongoing series, as long as her fellow residents remain interested. "You don't stop Canada 150 at the end of the year," she says simply.
Ivan says one of the great things about each session is the fact that as the hour and the end of the session approaches, people tend to start asking questions or sharing a piece of their own personal history as it relates to the topic of the day.
People may not have always had an interest in history or geography, but when they see themselves in the discussion and realize the role they play in the threading together the fabric of the country, their interest piques. In the process, neighbours learn a little more about each other and these new connections are perhaps the greatest gift the Stinsons have offered throughout the year.