10th Annual Leadership Retreat focuses on roots of Servant Leadership
By Kristian Partington
BRAMPTON, Ont. – Every spring for the past ten years, a growing collection of leaders from across Schlegel Villages have gathered for a two-day education retreat to collectively assess the path the organization is on and determine how they can each contribute to ongoing success and growth.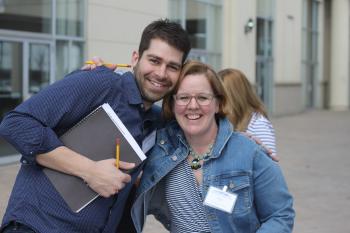 On April 28-29, the annual tradition continued at the Pearson Convention Centre in Brampton under the theme, Leveraging the Best of Who We Are. These two days were about self-reflection, both individually and communally. It was an opportunity for each attendee to assess their personal strengths and discover how they fit into the teams they work alongside and support.
"The objective this year is befitting a ten-year anniversary," said president and CEO Jamie Schlegel in his opening address. "It's really bringing together much of what we've been working on and consolidating it - it's a bit of a re-centering on our approach as an organization to leadership."
That approach is built upon a philosophy ingrained in the Schlegel family by Jamie's grandfather, Wilfred, who began operating a nursing home in London, Ontario in the 1950s. He was also a farmer and pastor, and his dedication to the communities around him was widespread and rooted in love and respect. He was a natural leader, Jamie says, because he was naturally committed to bringing out the best of the people he worked alongside and lived with.
"He was a serving leader decades before the phrase was coined," Jamie recalled. "It came from who he was as a person and from the beliefs that he held and the values that he lived by." The buzz of conversation and energy during the leadership retreat continually circled that leadership philosophy and the values that remain a large part of Wilfred's enduring legacy.  
"To lead is to serve," was the title of a presentation offered by Tansley Woods assistant general manager Augustin James. In a break from recent tradition that often welcomed an outside guest speaker or keynote address, this year's entire two-day conference drew upon the wisdom and knowledge that exists within the organization.
Augustin was an ideal choice to begin the conference, for the concept of servant leadership is something he has lived and breathed for many years now. His depth of knowledge on the subject comes from a passion for education and lived experience that followed a deep, personal reflection in his late 20s.
By delving into the qualities of many of history's greatest people, he challenged his fellow leaders to reflect on their own strengths and beliefs, for it is only when they know themselves completely that they cannot truly support their teams.
"My hope was to first and foremost connect with as many people as possible," Augustin said as he reflected on his presentation, "and to give an insight that human beings are more than just their habits or behaviours and attitudes. We're much more than that and we're not expressing our fullest potential."
When people approach their lives and their roles within their communities in a way that allows them to utilize their strengths, that potential is much easier to realize. Schlegel Villages continues to grow and its ambition as an organization is nothing short of fundamentally changing the way the elders of our society live in their final years. This requires individual leaders who recognize that their defining purpose is to leverage the best of each team member in order to enhance the lives of the residents they serve.