Heads turn when Fairview Nursing Home hits the streets of Toronto upon the two new custom tricycles the home purchased this year. Each is capable of holding a resident upon a front platform that can either lock a wheelchair safely into place or offers a safe seat upon the other, and they work under both man and battery power, making for a smooth ride.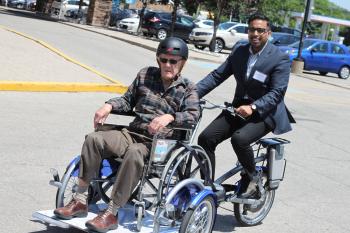 During an outdoor knowledge exchange session at the annual Schlegel Villages/RIA Innovation Summit in Kitchener in June, Fairview general manager Saurabh Bhatnagar and recreation director Julie Music demonstrated the capacity of the trikes, and spoke about the impact they've had in the lives of residents.
"We have a very high population of residents under the age of 65 who want to go out and buy something, they want to go out and experience life the way that a 47-year-old would like to experience it. " Julie explained. They want to be spontaneous, which can be nearly impossible if you must plan for accessible transport in the heart of Canada's largest city. The team knew they wanted to go beyond accessibility for their residents, creating opportunities to quickly decide in the moment to head out into the city for a ride.
"We want to have fun with our residents, so that was a huge piece of this," Julie said. "We made a conscious decision that this is something we value and we can show it."
The tricycles represent a significant investment, having been custom built in Europe and shipped to Toronto, but both Julie and Saurabh have seen just how much freedom the residents experience by being able to share a spontaneous ride with a team member.
In long-term care, Julie pointed out, there are times when that sense of freedom among residents is diminished, especially among men who are relatively young for a LTC setting. "A simple thing like not getting your hair done by a hairdresser but taking a male resident to a barber where they can get a clean shave," Julie offers; this is made infinitely easier with the use of the tricycles.
The first time she took the trikes out along the streets of west-end Toronto, Julie remembers feeling a bit worried as vehicles were tied up behind her, yet every person they came across was receptive. "As every car passed us, people were giving us smiles and not one honk," she said. "We got nothing but positive feedback and positive reinforcement. People were stopping us on the street asking 'what is this?' "
For the team, the answer is simple: It's a new way of creating opportunities for meaningful and shared activities among team members and residents while offering room for spontaneity to thrive.
---
Learn more about Fairview Nursing Home