Mar 22, 2022 / Village Voice
Posted by: Kristian Partington
Every one of the Schlegel Villages has been tested against the challenges of the past two years as waves and variants of COVID-19 infections ebbed and flowed across Canada and around the world. Against that backdrop, the organization pushed forward, finalizing a new five-year strategic plan while updating the key values that define the work ethic and dedication of its team members. These values are: caring relationships; persistent and passionate; positive, can-do attitude; creative and innovative; hardworking and hands-on; genuine and humble.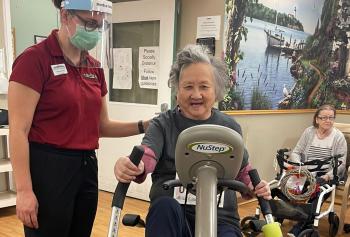 The Pinehaven Team's dedication to the well-being
of residents is a reflection of values that will
carry Schlegel Villages forward in growth. 
It was mid-February when Luke Denommé found a moment of space and time to reflect on what his small Village had overcome since the pandemic began and especially after an outbreak during the Omicron wave that spanned several weeks beginning in late-December of 2021. He says from a "values perspective," he saw every angle covered in the way the Pinehaven team came together to support the residents and each other. Even when team members were at home isolating and outside agency supports came in to fill gaps, they too fit within the Village system as if they'd always been part of it.
"It made me feel proud to be a part of this group and gave me a sense of confidence and calm knowing that despite the difficult experiences we were all working through, our team members would ensure our residents were front of mind and well taken care of at the end of the day," Luke said. "I saw so many positives taking place; when faced with problems, we found a way to consider the solutions instead of compounding or complaining about the problem.
"The team was resilient and met this experience head on with a lot of focus and hope overall," he added.
A few weeks before the Omicron outbreak began, some of Luke's fellow leaders gathered for a regular discussion about all aspects of Village life. Infection Prevention and Control, as always, was on the agenda, but this was when communities across the province were hopeful that COVID-19 would be kept at bay over the upcoming holidays. They were discussing Christmas cards for their teams, and a tray of still-warm, homemade cherry brownies seemed to lead the conversation.
The leaders spoke of their deep appreciation for the team members in the Village, some of whom have been there for decades, and this group remained humble in the conversation, offering credit to others for the fact that spirits remained high nearly two years into the pandemic. The deep, caring relationships the Village cherishes are a big part of this, as is the humble spirit so many team members naturally embody.
"It makes me really happy inside to know that whatever the task list is on myself, I can be calm and know that the neighbourhood will be all right because we have these strong, 'informal leaders' who are able to really help out," said neighbourhood coordinator Lucho Villar.
"It's wonderful to see that on every shift," he said.
The entire team is persistent and passionate about their work and they have been forced to be creative and innovative in different ways to manage the challenges of COVID-19. This is true at Pinehaven just as it is in every Village, large and small, and it is what binds the larger Schlegel Villages family together.