"En tres años, I have 100 years," says Raúl Fernandez Angulo. He's sitting quietly in the community centre after the party he helped launch on Main Street in The Village of Taunton Mills has ended. Raúl is 97 years old, he's saying through a blend of Spanish and broken English, old enough to know the value of a good fiesta. Which is why during a quiet Saturday morning in the library as he was getting to know two recreation team members, Kristin and Stephanie, he suggested throwing a party along Main Street, celebrating the efforts of his friend and neighbour, Brian Leyes, who runs the village's General Store.
It's a simple reason for a party, but sometimes thats all you need, Raúl says. He spent 45 years as a radiologist – a serious, rigid profession, he says – and now as he approaches 100 he's always on the lookout for a simple reason to let loose. No more seriousness for Raúl.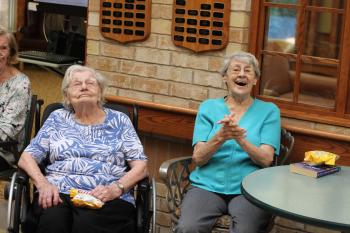 And so it was that on a Wednesday morning in late August, Brian was the centre of attention as 50 residents and team members sang along to live music and snacked on savoury and sweet treats from the store that Brian revived. Raúl sat back and watched, clapping his hands in time to the music, smiling wide, perhaps in knowing that he had a part in making this morning happen.
Brian has lived in the Village for a couple of years now, and after moving in he quickly noticed the store sat empty. Irene, the resident who used to run the store, had passed away and nobody took up her mantle. Brian, however, used to own and operate four pizza shops, so he knows the art of customer service and business. When he offered to get the store up and running again, the team was fully behind it.
Today, it's well stocked and welcoming, with Brian there most days for at least a few hours, offering a smile and the simple basics one might need or crave within a simple store. 
"I love to see the smile on their faces," Brian says, when asked what he loves most about running the store. He's referring to the residents who stop in to purchase a Dairy Milk or an ice cream sandwich. There's perhaps a bit of nostalgia or reminiscence in their faces, stopping in at the corner store for a treat as they may have done decades before in the innocence of their childhood.
It makes Brian happy to be part of that, which is why he devotes so much time to keeping the store vibrant. Raúl sees this in his friend, and in suggesting those efforts are worth celebrating, he honours Brian.
The faces of residents along Main Street as the music played smiled and sang in agreement – anything for a good fiesta.