Oct 29, 2020 / Village Voice
Posted by: Kristian Partington
When Ashlee Bannister was called to the stage outside The Village of Taunton Mills to accept her Success Award, she was overcome with emotion. Tears flowed down her cheeks, though her smile was wide, and it was clear this moment was much more than team member recognition; this was a moment to reflect on not only what she has given to residents but what they have given to her.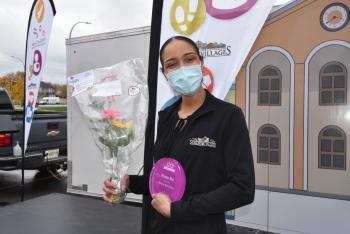 Ashlee is one of many team members recognized with a
Success Award for her ability to connect with those she serves.
Ashlee was one of five team members from Taunton Mills recognized during the Success Awards event at Taunton Mills at the end of October for the way she demonstrates the value of 'Know Me', one of five key values that form the overarching CONNECT the Dots customer service Credo within Schlegel Villages. 'Know Me' highlights the importance of team members truly understanding who each person they serve is so they might anticipate their needs and connect on a deeper level.
As an administrative assistant, Ashlee has cause to know every resident in The Village and when she returned to work last year after suffering through the tragic and sudden loss of her husband, she connected with residents on an entirely different level. So many of them have lived through loss in life, and their guidance and understanding, as well as their willingness to accept support from Ashlee, has had a lasting impact on so many.
"The Village was with me through the passing of my husband so I share a lot of stories and I'm able to relate with a lot of the residents so that's how we get together and communicate," Ashlee says. "It makes me feel better, letting them know that they're not alone; it's not only them that have lost people, it's young people like me, too, so it just makes me feel better that if they need me to lean on of if I need them to lean on, we're there for each other."
Across all 19 Schlegel Villages this fall, team members are being recognized for their dedication to offering the best of themselves to residents. Along with Know Me, there are four other credos: Be Present, Walk in My Shoes, Earn Trust and Follow Through. Yes, each Village is recognizing five team members with success awards in similar ceremonies, but there are thousands living these values every day.
Typically, there would be an evening of celebrations to go along with these awards, with live music, fine food and drink and dancing to mark the efforts of each Village team, but this isn't a typical year.
"It feels a little bit different, for sure," said Schlegel Villages president and CEO Jamie Schlegel as he addressed team members and residents from the small temporary stage set up in the parking lot at Taunton Mills. Some residents peered down from windows and balconies, taking in the music and ceremony.
"We're in a parking lot, socially distanced and wearing masks," he noted, "but what isn't different is the gratitude in my heart towards all of you. If there was any year that the mettle of this Taunton Mills team has been tested, it is this past year."
It's a message of gratitude Jamie and leaders from across the organization are carrying across the province in similar celebrations. The time will one day come when everyone will gather again to share fellowship in close quarters in banquet halls or restaurants but in the current climate, that time is not now. The commitment every team member has for their residents, however, is always worth gratitude and whether in full celebrations or in quiet moments of reflection, their dedication is inspiring.
---
Here are the Success Award Winners for 2019