Feb 21, 2023 / Village Voice
Posted by: Kristian Partington
It's mid-morning on a bright and icy February day, and Dorothy Thomas is sitting in a comfortable swivel chair in the hair salon at The Village of Humber Heights. The stylist is gently curling her silver hair, and Dorothy's smile is as bright as the day outside as she speaks about her family coming to celebrate her birthday the following day.
It is, after all, her 108th such celebration, and she always loves seeing her family.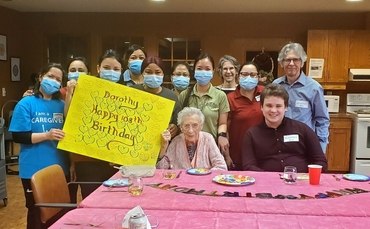 Dorothy was born in 1915 at a time when the German army was launching Zeppelin attacks on the east coast of England, Canadian soldiers would distinguish themselves at the battle of Ypres and the Australians and Newfoundlanders would face the dreaded battle of Gallipoli.
You could buy a Model-T Ford for $350 the year Dorothy was born, and apparently, the Chicago Daily Tribune was the first publication to use the word "Jazz" to refer to a genre of music.
How the world has changed in the course of a remarkable lifetime, but Dorothy's good spirit and positive attitude have remained constant. As she makes her way from the salon back to her suite in the main floor Williamsburg neighbourhood, she greets everyone with a kind word, a smile, and a slight wave.
Her friends in the Village talk about how good she is at playing bridge, a game she has always played that she says "keeps her mind sharp." She enjoys a glass or two of white wine at dinner and she loves to listen to live music.
Her family is the most important thing in her life, she says.
Her husband, Reg, passed away in 2005, but in their life together they lived fully, travelling and raising a family that Dorothy is proud to say remains close to this day. Reg was the love of her life and she says if a family is raised with love, they can't help but be close.
"I have a wonderful family," she says. "They would do anything for me or give me anything – they're very special, and I'm very lucky."
Dorothy is a caregiver at heart. She enjoyed a career as a nurse because it "felt as if you were helping somebody, which is good," and now she's grateful to live in a place where others with that same caring heart are there for her. She's independent in many respects, but at 108 there are certainly times when some assistance is warranted.
"Everything comes around," she says, "and they're very good here."
After more conversation about her travels through England and her love of family meals and celebrations, Dorothy starts to tire. As she considers one last question about the secret to a long and happy life, she smiles brightly.
A positive attitude goes a long way, she says, "and you might just as well enjoy life."