Melanie Chandler at The Village of Arbour Trails
By Kristian Partington
For some people the idea of person-centred care is a natural concept – the only way to approach the support of someone who lives within a long-term care or assisted living setting. When these people are given the freedom to contribute as widely as possible to any aspect of a home's operations, the teams grow stronger and the residents themselves reap the greatest rewards.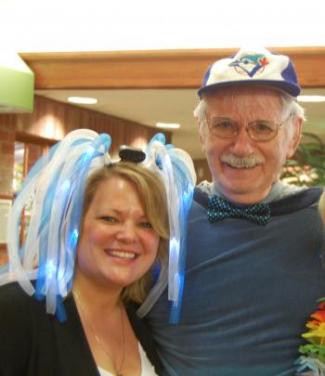 Melanie Chandler, a medication-certified personal support worker at The Village of Arbour Trails in Guelph, stands out as this type of caregiver.
"Watching Melanie interact with our residents has always been something that I admire," says neighbourhood coordinator Brooke Nelson, who moved to the village from Windsor's Aspen Lake at the beginning of summer. Melanie stood out instantly, Brooke says; "You walk in the door and she's got this huge smile on her face – really, she just gets it."
The reason Melanie decided to pursue a career as a caregiver speaks volumes about her philosophy and is as simple as it is impactful for those she serves. Her father spent too much time in a care home that was far from ideal, and she couldn't stand to see how little he was respected.   
"I hated the way my Dad got treated," Melanie says." I knew that I would never do that and I could make a difference and that's kind of the way it started. The way I am with the residents here, well I just want them to be treated the same way that I wanted my Dad to be treated, but he wasn't."
Her approach to care is entirely focused on the choices of residents, and she takes the time to know who they are so that it's easy to understand the choices they make. She's so in tune with some of those she serves that she's been known to take the lead and organize care conferences to ensure family members and other team members are on the same page. She can place herself in the family members' shoes and knows all too well the importance of the trust that is placed in her and her fellow team members. It's a trust she accepts entirely, and it easily translates into true respect for each person she comes into contact with every day.
Melanie's ongoing interaction and support of one resident in particular stands out in Brooke's mind. This is a woman who experiences high levels of anxiety, at times, which can prompt challenging expressions, and Melanie is one of those people who can inspire a sense of calm when things escalate. She's a familiar face and name for this resident and thus, a natural person to step into a multi-disciplinary care conference with Behavioural Supports Ontario and family members to determine the best way to assist the resident moving forward. She even organized a second conference as a follow-up and de-briefed the entire team to ensure everyone knew where things stood.
This is not a typical role for most PSWs in the industry, Brooke points out, "but Melanie took it upon herself in her own time and she just blew me away with her initiative."
For Melanie, this is no big deal. It's simply the way things should be and she's thankful to work in an environment that encourages all team members, regardless of role or position, to develop the relationships that matter with each resident.