The value of the Java Music Club is proven week over week as small groups of residents in neighbourhoods throughout Schlegel Villages gather together to share stories of the past and their hopes or fears for the future. And yet, for those residents living with Alzheimer's disease or other forms of dementia, the benefits of this wonderful mutual support program always seemed just out of reach.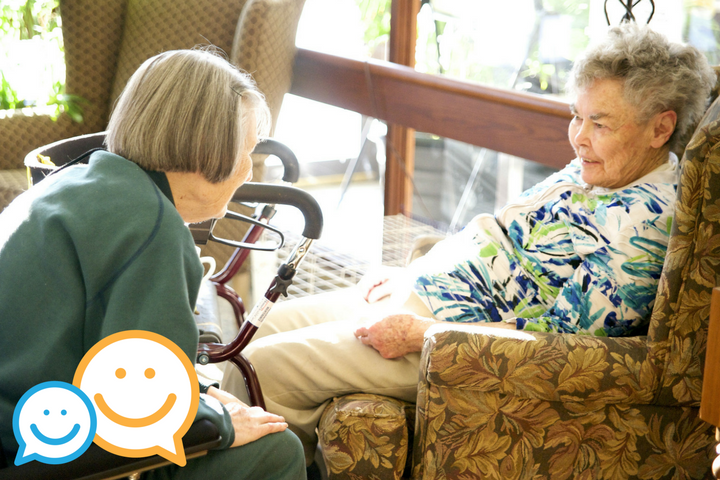 Sure, some of the trained facilitators were able to make creative adaptations so it could be a little more accessible for this population of residents, but on the whole, the team recognized that a more consistent adaptation of the Java Music Club was necessary.
The program's developer Kristine Theurer agreed entirely. In fact, as Schlegel Villages was questioning how to reach residents living with dementia through Java Music Club, Kristine was already piloting Java Memory Care in a few homes in British Columbia. In 2017, Schlegel Villages began piloting it as well, and the results have been overwhelmingly positive.
Rev. Sharon Pearce, the chaplain at The Village of Wentworth Heights in Hamilton, has been the Java Music Club facilitator since Day 1. She says Java Memory Care, which she began sharing with residents in Emma's neighbourhood in late 2017, has become her favourite program of the week.
"It's just wonderful," she says. "It's very relaxed – just getting together and chatting and singing with friends."
The premise behind Java Music Club is to create a space where residents come together to share their feelings about a particular theme. It's facilitated discussion infused with familiar music, and it opens up the possibility for residents to both give and receive support and friendship.
Java Memory Care offers the same thing, yet the discussion or the questions that spark it aren't as specific; emotional connection, sometimes through body language, eye contact or a simple smile alone, are the key to meaningful interactions.
"I go to where they are in that moment," Sharon says, explaining the nature of the new program. "It's just organic the way it happens, and that's what I love about it. The topics just flow from one conversation to another."
That natural flow, however, was one of Kristine's main goals when she set out to help people living with dementia and cognitive challenges rise above the foreboding sense of loneliness that is all too present in so many of their lives. True connectedness is what people crave, whether they live with dementia or not, and by simplifying the themes and helping facilitators learn how to enhance these emotional connections, progress is being made.
"When you don't feel like you belong, it's just awful," Kristine says. "It's just a terrible thing and it shouldn't be happening anywhere in our society, especially not in senior living."
Yet when someone has a positive connection with another person, that moment can carry them forward throughout the day and enhance other interactions that may follow. Kristine says she's proud to see Java Memory Care making that happen within Schlegel Villages and looks forward to hearing from other neighbourhoods as the program expands.  
"I'm just thrilled that people are embracing this peer support concept," she says.