Apr 16, 2021 / Village Voice
Posted by: Kristian Partington
Michael Markou is known for his happy-go-lucky attitude and his funny, jolly statements. He is always joking with the team that supports him at The Village of Erin Meadows long-term care home in Mississauga, but he does so in a friendly way, always encouraging.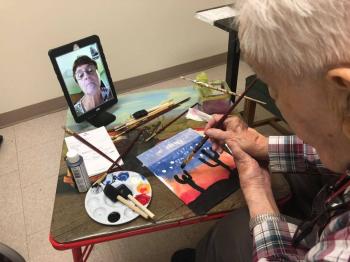 Virtual Volunteerism at its finest at Erin Meadows.
In response to a question or statement, a common response from Michael might be: "I beg your pudding?" A wide smile will often follow.
Michael is one of many residents at Erin Meadows who benefit from the relationships a host of volunteers offer the Village team. Volunteers offer opportunities for additional one-on-one companionship, they support recreation programs and they are dear friends, in many cases.
When a state of emergency was declared because of COVID-19 in March of 2020, the loss of volunteers and regular visitors was felt immensely, but they didn't disappear entirely. Many volunteers across Schlegel Villages have found ways to continue to contribute; some have taken on new, official rolls within a Village, like Lynn Roy, while others, such as Christine Anderson, contribute time through virtual volunteerism.
Lately, Christine has been on one end of a Facetime call with Michael on the other, paintbrush and canvass at the ready. As the steps to painting a simple picture unfold via YouTube video, Christine walks Michael through them, freeing up the recreation team members to support other residents at a safe distance.
"Christine does a great job with Michael," says recreation team member John Knox, who often sets up the virtual volunteer connections. For the past decade, she has offered the best of herself to residents on a regular basis, he says, and her physical presence, like that of so many volunteers, is missed. For her part, Christine would love to be back in the Village but as a retired community nurse, she understands the importance of the protocols in place as COVID-19 continues to spread in Ontario. She's happy to do what she can virtually.
"I knew, as a volunteer, I could not go in," Christine says. Interesting conversations, however, like those she has with Michael, are still options through technology, whether painting is involved or not. When she was in the Village, she helped in groups and in one-on-one situations and it's something she looks forward to once it's safe for congregate care settings to loosen restrictions.
As residents and teams within Schlegel Villages mark Volunteer Appreciation Week from April 18-24, they also look forward to welcoming the compassionate spirit of their volunteers back into the Villages. For now, they are just thankful that spirit hasn't been stopped by lockdown orders.  
"Our volunteers are so important to each and every one of our communities," says Melanie James, Director of Recreation and Support Services with Schlegel Villages. "So many continue to show such wonderful support, even though they can't be with us in person, and that encouragement means to world to our teams and residents."
---
Listen to this special Volunteer podcast episode of #ElderWisdom | Stories from the Green Bench