In early April, Jack York, the president and co-founder of It's Never 2 Late (IN2L), and regional sales manger Debbie Ciesielczyk visited Schlegel Villages to learn a little more about the company's "preeminent Canadian Customer." They toured the Research Institute for Aging and the Villages of University Gates, Arbour Trails and Riverside Glen before addressing directors of recreation from across Schlegel Villages during their quarterly meeting.
Jack began his April 3 conversation with the directors with humour and wit before offering the backstory of how and why he chose to launch the company in 1999.
Before creating what has become a premier person-centred, integrated software system designed to help people of all abilities access the many benefits of computer technology, Jack had found success in Silicon Valley. In the '80s and '90s He earned heaps of money "selling widgets," he joked, though he found little meaning or satisfaction in the work.
"When I was in my late 30s I would see men who are my age now in the Bay Area of California and they were almost universally rich and miserable," he said, "and you go, 'is that what I really aspire to be?' "
At the time, a friend from college came up with the idea of donating computers to a local assisted living community, and he offered to help by donating to the cause. Quickly they saw that the small percentage of seniors who could access the technology found immense benefits in it, but Jack gave it little more thought.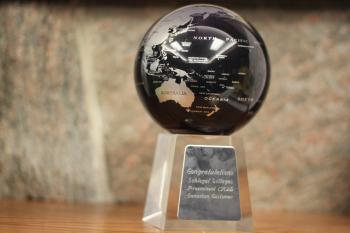 Not long after, as his mother prepared to celebrate her 80th birthday, she took all her children and grandchildren on a cruise. He recalls standing upon the deck of the ship one evening staring at a bright moon over the water, and his mother told him that everything in life that she wanted to happen had come to fruition.
"It was an incredibly spiritual moment for me," Jack said, and the image of that moon would later become the company's logo. A few days later, his mother suffered a devastating stroke. He danced with her at a surprise birthday party filled with family and friends, and later he held her hand in the hospital in the moments before her death.
"Her spirit was telling me, 'get out of what you're doing,' " Jack recalled before the quiet group of Schlegel Village directors. " 'You're supposed to doing something that's different and bigger and changes people's lives.' "
After she died, he thought of the computers and the idea that technology might offer him that new purpose; technology, he decided, could offer a means of supporting seniors and enhancing their lives, no matter their abilities, and IN2L was born.
In senior's living, Jack says, technology in most cases is all about medical records and clinical efficiencies, while "the person's soul is left out of the equation. From Day 1, we've always been about discovering how to make a person's life better."
More than 2,000 senior's living communities now have the system, including most of the Schlegel Villages. Taunton Mills was the first village to pilot the system six years ago, and recreation director Nichola Kerr says residents continue to access its many, integrated programs, especially in neighbourhoods where residents living with dementia sometimes express themselves through agitation. In the evenings, for example, team members can quickly access soothing music they know appeals to certain residents, or sometimes others may simply want to access pictures that offer them a sense of calm and peace.
"It's great to have not only as a main programming tool," Nichola says, "but it can be used for the quieter more intimate programs."
Jack says he recognizes that Schlegel Villages inherently understands the value of person-centredness and doing all that is possible to enhance the lives of those who make the villages home. There is a sort of synergy between the two organizations, and "we gravitate towards people who get it," he says. "I understand passion and people doing things for the right reasons . . . and with very little help from us, you've taken (IN2L) to a different place."
One of the main reasons Jack and Debbie visited was to deepen that connection and access the knowledge of team members and residents as IN2L invests in upgraded technology through more personalized tablet systems.
The IN2L system is built on a picture-based, touch-screen interface that allows users to simply "touch" their way to find engaging, educational, spiritual and personalized content that is appropriate to their own level of ability. From using e-mail and web cams to connect with family and friends, to enjoying mind-stimulating activities, to improving hand-eye coordination as part of a rehabilitation program, elders with a wide range of physical and cognitive abilities, most of whom have never used a computer, are now enjoying technology using systems adapted especially for them.