Jun 09, 2020 / Village Voice
Posted by: Kristian Partington
New team member wanted to help out during the pandemic, and he's been transformed
In his normal life, Wayne Barr works for one of Canada's largest Slo-Pitch organizations, but normal was pushed aside with the emergence of the COVID-19 pandemic in Canada and, like many Canadians, Wayne was forced into a different path.
He has never been the type of person who is comfortable with idle time, and it wasn't long after his lay-off before he tired of sitting at home watching endless news cycles on the television. His friend Jennifer Gould is the recreation director in The Village of Sandalwood Park and when she posted a message on social media seeking additional help in the Village, specifically at the screening table, he called her.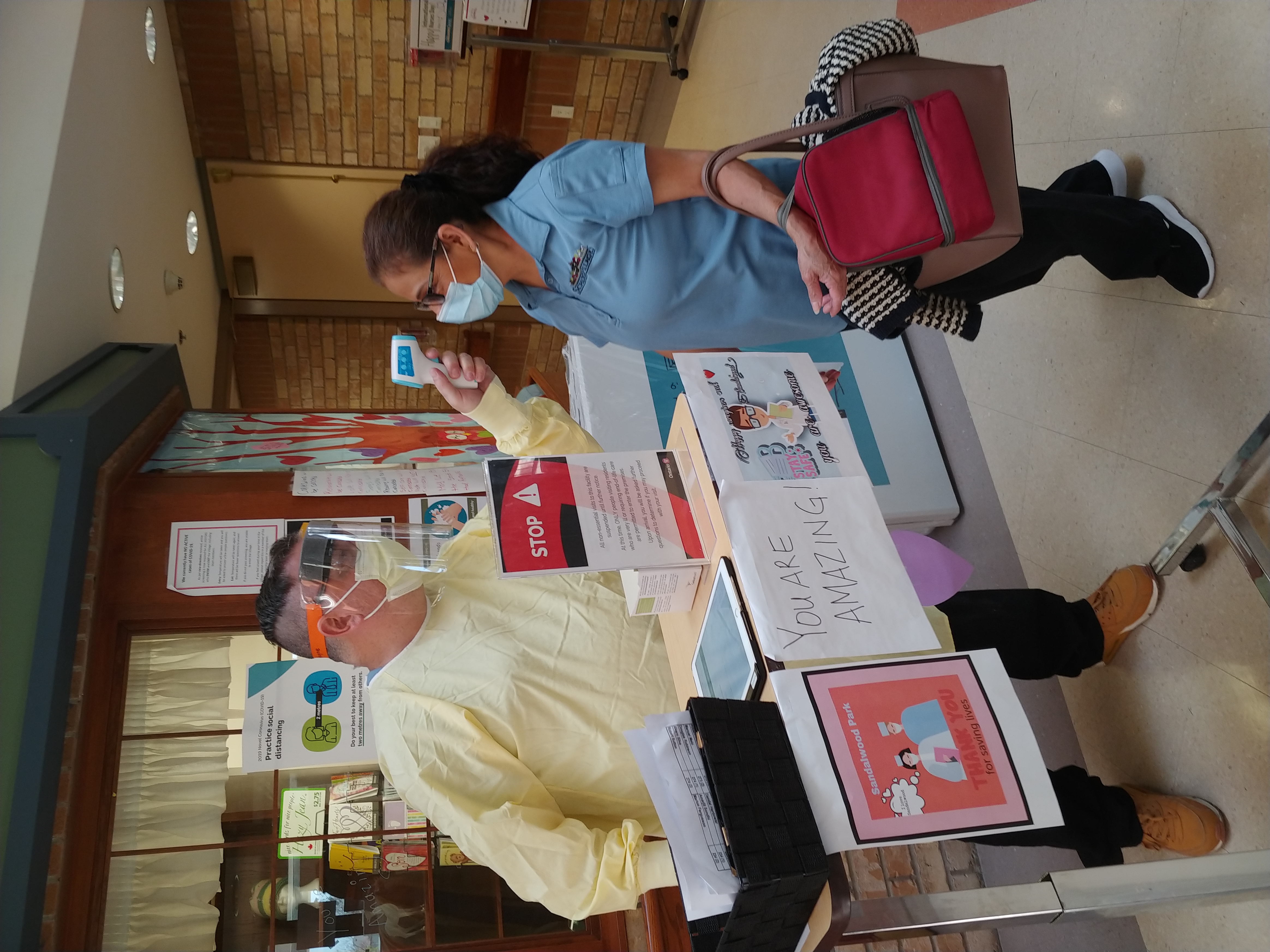 Wayne Barr started at Sandalwood Park as a
screener, but has since taken on other roles.
His perspective on long-term care has changed
'one thousand per cent,' he says.
'I don't care about money,' he said during that early conversation. 'I just want to be doing something and this could be a good opportunity for me to put my time to good use.'
"My goal was to come here and help out and use my time for good during the pandemic," he says now upon reflection; he certainly has been a strong help and, in the process, he has gained much from the experience.
Since the end of March, Wayne has worked as a screener and supporting residents at mealtimes; most recently, he has been working directly to support one particular resident, Randy, who lives with dementia and seems to benefit immensely from the one-on-one time with his new friend. Wayne's eyes have been opened to the world of long-term care in ways he never would have imagined, he says, and he's not sure he'll ever go back to a time when he isn't involved in the lives of older adults.
"I was the type of person that when I did watch the news or listen to the news and they started talking about seniors or long-term care homes, I would change the channel and put on sports," Wayne admits. "Now, not a chance! It's first and foremost on my brain."
For many in society, long-term care residents are out of sight and out of mind, but with the challenges revealed under COVID-19, people are finally taking notice of the importance of the sector and the great need to support team members and residents to live the best lives they can. Wayne is proud to be part of this now, and he says he'll always be an advocate; whether he continues to work at Sandalwood Park or simply volunteers in the future, he will always be part of Village life.
 "One thousand per cent, my perspective has changed," Wayne says. "I feel so strongly about this."
He's been able to share his experience with family and friends, helping them better understand that the reality at Sandalwood Park is far different from the typical portrayals of long-term care in the media. In his new role, he sees a vibrant Village filled with caring team members and interesting residents. "I tell my friends and family, 'when this is done, come here and volunteer and you will get a different perspective.' "
The team couldn't be happier to have Wayne as an addition to the Sandalwood Park family, says Megan Newbury, the director of nursing care at The Village.
"He's so positive, energetic and a team player, always willing to help in any area we need it," Megan says, "and he just aligns so perfectly with our Schlegel mission, vision and values. He came into Sandalwood knowing that at any time we could go into outbreak, and just wanted to do anything he could to help.
"We are all hoping he will stay with us long after the pandemic."