Carol Gloster brings a unique perspective to the recruitment process
The long-term care sector is competitive in terms of recruitment and retention of strong caregivers, so attracting and hiring the right people who embody the right values is a constant, ongoing process. Carol Gloster hadn't lived at the Village of Glendale Crossing long before she realized there was a role for her to play in shaping the team of caregivers who support the people who live there.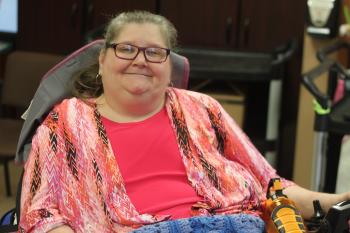 "I asked to be involved in the process," she explains after finishing a round of group interviews with 10 applicants, often the first step in the recruitment of new team members. As a younger resident who came to Glendale Crossing in late 2015 due to complications from multiple sclerosis, Carol brings a valuable and unique resident perspective to the hiring process.
She's intelligent and her wit is sharp; she's not afraid to speak her mind and ask direct, if not difficult, questions of potential new team members. To be qualified as a personal support worker or registered practical nurse is one thing, but to carry out the work on a daily basis from a compassionate, relationship-centred perspective is quite another. Carol seeks to find those people and bring them into the village community.
"I want to know what (new team members) will bring to the village," Carol says, noting that there are certain qualities she looks for – qualities that in most cases can't be taught in a college course "Trust, respect, courtesy – those three are big with me."
She says her privacy is of the greatest importance and one of the greatest flaws a team member can have is a lack of respect for that privacy. Glendale Crossing is home for each resident, and every team member must understand and honour that basic fact. Those who do tend to bring a range of other strong attributes with them, enhancing the village mosaic greatly.
Carol is grateful, she says, to be part of the team that sifts through the many potential new team members who walk down Main Street for the first time to their group interview.
"This is my home," Carol says. "I live here and this is it for me until I take my last breath, so I want to be involved in it."