Sep 21, 2020 / Village Voice
Emily James and Maddie Potts were both just children when they first connected with life in a Schlegel Village. Emily's mother Melanie was a recreation director in Kitchener's Village of Winston Park when she recalls first visiting the Village; Maddie's mother Joanne opened The Village of Aspen Lake in Windsor as general manager 10 years ago.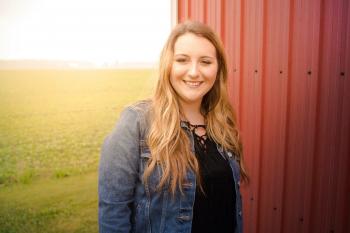 Emily followed in her mother's footsteps, enjoying her time
with residents in the Village at University Gates.
Both Emily and Maddie recall visiting residents along Main Street a decade ago or helping out with events, but their perspective changed in the past six months as they stepped up to support Village teams when COVID-19 struck.
Hundreds of people answered the call for supporting roles when team members were urgently needed and there were many who, like Maddie and Emily, have been part of the Schlegel Family for years. Their parents have grown through the organization, passing their commitment to service of others to their children.
Maddie's time working at Aspen Lake, first as a screener and then as direct support for residents as training allowed, even prompted her to change career paths. For three years her goal had been to study naturopathic medicine and she had already been accepted into a school for this fall. Her deposit was paid and she was ready to go; then she started working at Aspen Lake.
"I was really enjoying it and curious about everything," Maddie says, "so I was able to do my med-pass training. I'd never really considered nursing, but I was really enjoying this and I wanted to learn more about it, so I decided to look into nursing and see what schools were still accepting."
Within a week, she'd applied and been accepted into Lakehead University's Nursing program. She moved to Thunder Bay in late summer to begin her new path this fall and she says the time she spent with those who call The Village home was a key deciding factor. "Actually seeing them as a person and not a resident was a really special thing I was able to do," Maddie says, and she'll carry that knowledge into her future as a nurse.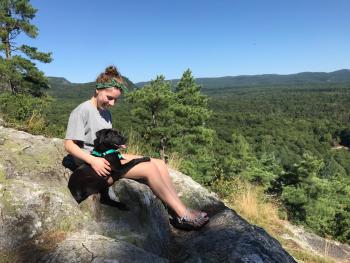 Maddie's time at Aspen Lake prompted to her change career
paths; here she is on her way north to Thunder Bay where
she will study nursing at Lakehead University.
Emily also found a deep connection to many of the residents she met in her time working as a screener in Waterloo's Village at University Gates. She started there in March, just as the reality of the pandemic was starting to show itself, and she's been working there ever since. She's happy she'll be able to continue working as she pursues her studies in educational support online through Conestoga College.
"My favourite part is when I get to interact with the residents," Emily says, echoing much of what first drew her mother into Village life years ago. "I've made connections with a few of them that I really like and I feel close to."
She also says the experience offered a deeper perspective on the challenges the pandemic poses that few people her age truly understand. "I feel like a lot of the people my age, they don't really get it," she says, "but I feel like I was really in the middle of all of it."
And her help and Maddie's, along with so many others who chose to join the Schlegel Villages family during a time of great challenge, was more than welcome. As a family organization, the commitment of a new generation of team members offers great prospects for the future. It's also a point of pride for the parents who brought them up to know the beauty of service to others.