Jun 19, 2020 / Village Voice
Posted by: Kristian Partington
Under the shade of a tent on the patio outside of the retirement neighbourhoods of The Village of Taunton Mills, Doug Price and his son Stephen sit across a table from each other sharing stories and catching up. The masks upon their faces hide their smiles, but their eyes show their delight as they joke with each other and reminisce about their time at the family cottage.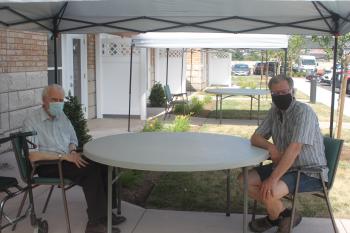 One might not see the smiles behind Doug or Stephen's mask,
but their eyes revealed their delight at reconnecting. 
It's almost as if they haven't been separated for the past three months under a pandemic, and they say the only thing missing today is a cold beer as the hot summer sun beats down. Doug has lived at Taunton Mills since 2010, and the past three months have been hard, at times, as the only time he's seen his family has been through window visits. Today is the first time he's been outside, in fact, and he's clearly happy to be spending it with his son on this first day of visitation.
Overall, however, "I've been doing quite well," Doug says, adding that much of his comfort is found in the relationships he's built with team members over the past 10 years. Stephen points to the team members, as well, and his gratitude for their support is clear. "I know there are a lot of restrictions and, in a way, a lot of risk and effort to shuttle the visits all through the day," he says, "but it's deeply appreciated."
At the other side of the Village on the patio outside of the long-term care neighbourhoods, similar reunions are happening. They are bitter-sweet, in many respects, as spouses sit across a six-foot table, happy to see each other but also longing for the chance to touch. Bob Leczel would visit his wife Vera every day when she first moved to The Village in 2014, but his visits slowed a little as she began to recognize him less – it's a painful reality, sometimes, as different forms of dementia progress. He's grateful to see her smile on this visit, however, and for the kind words of a team members who assure him that Vera knows he's there, and he is the same husband who has loved her for more than 63 years.
For Joe and Adele Riedel, they've been separated within the Village these past three months; Joe lives in the retirement neighbourhoods and Adele in long-term care. Sometimes she would go out to the balcony above and he could see her from a distance, and today their distance apart has lessened. "I hope it doesn't take too long to be even closer," Joe says. "She always likes to hold hands."
Six feet can seem like miles when hearts have longed to be together.
During extraordinary times there have been great challenges for families, but today offers a little glimmer of hope that a sense of normalcy may soon return. None who speak today question the need for precautionary measures, for they are what have kept residents safe at Taunton Mills. They do question what normal might look like moving forward, but the answer to that question remains elusive.
All anyone can do is take it one day at a time and look forward to every moment together.