As Schlegel Villages Chief Operating Officer Paul Brown welcomes the largest contingent of leaders ever assembled from within the organization to the annual leadership retreat on April 25, he shares a story from this past winter.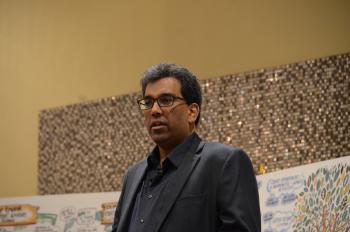 He had the privilege of coaching two Local League girls' hockey teams in Kitchener, he explains, and when he reflected on the experience at the end of the season, he thought about what it meant to be a coach and a leader, internally asking a few important questions.
"Were these girls better at their skills in hockey than they were at the beginning of the year?" he asked. "Did they have more passion for the game and did they play better as a team? Did they learn some life skills throughout the season that might apply to the future, and did they have fun?"
Ultimately, "were they better as individuals and as a team today than they were at the beginning of the season?"
He looks out over the audience of nearly 300 people – the general managers and directors of food services, recreation and environmental; the neighbourhood coordinators and directors of nursing care – and he explains that his goals as a coach of girls aged 5-8 aren't that different from the goals all leaders should strive to achieve in drawing out the best of their team members.
Coach, Grow and Win is the theme of this year's retreat, so Paul's anecdote leads nicely into the event as he welcomes internationally acclaimed leadership coach Tanveer Naseer to the stage for a morning of inspiration and education. The morning passes in an instant, it seems, as Tanveer discusses the concept of Leadership Vertigo and the risks it poses of pulling unknowing leaders off course.
"Leadership Vertigo essentially refers to the gap that exists between how we view our leadership and how our employees experience our leadership," Tanveer says. A leader's perception can be different than that of the team they support, and throughout his keynote address he offers several tangible points of access for the people in the room to consider in bridging that gap.
Each strategy falls under one of four leadership principles, he says: Build Community; Develop Competence; Earn Credibility; and Cultivate Compassion.  These four principles are intertwined, each working in support of the other in creating space for a team to thrive.
To build community, Tanveer says, is to respond to the core, psychological need of all people, no matter their culture or heritage, for connectedness.
When he discusses developing competence, he's not talking about technical competence but instead, he says a leader must develop emotional competence in order to heighten end engage two key human responses to the world around them: empathy and curiosity.
When a true leader's words and actions align, they earn credibility and it's critical that leaders make space for self-reflection in order to assess whether or not their words and actions align.
The fourth principle is to cultivate compassion by consciously recognizing that emotions are contagious and teams follow their leader's examples. A strong leader and coach can help those they support rise to heights of endless possibility, but they must constantly learn and hone their skills in an ongoing process of growth in leadership.
"We don't want to leave our leadership culture to chance," Paul reminded the team before introducing Tanveer, and these two days of discussion, kicked off by Tanveer's morning of inspiration on Day 1, are about honouring the values of the organization.
"To lead is to serve," Paul says, and 275 people nod their heads in agreement.
Watch for more stories from leadership in future Village Voice stories.