Feb 24, 2015 / Village Voice
Practical Nursing students graduate at the village that nurtured them
By Kristian Partington
Last fall, as the time drew near for a small class of Conestoga College practical nursing students to consider graduation, The Village of Riverside Glen in Guelph was the only logical place that sprang to mind as the venue for the ceremony.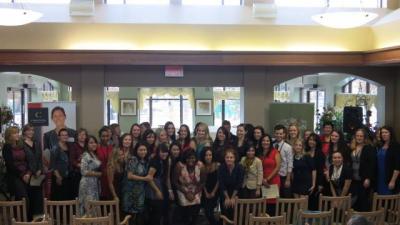 Conestoga College Nursing Grads at Riverside Glen, December 2014.
The students studied at the village, part of the unique Living Classroom concept that allows future nurses to immerse themselves in a potential work environment. In this way, the students become part of the village, and the residents and team members there are guides, helping move beyond the textbook to the practical realities of nursing. 
"That was home to us," says Teshaynah Maycock, the cohort's valedictorian. "We love the environment and we chose that campus because we love the idea of the living classroom."
She says it was easy for the students to make the decision to honour the role the village played in their education and thank their hosts by holding the ceremony there. "When we started the program, there was only 40 of us in the beginning and we all became like a little family, we became each other's support system," Teshaynah says.
In previous years, the students would merge with the larger college campus at graduation time, yet Teshaynah says that didn't feel right; their connection was to the village and together with their loved ones and the Riverside Glen family, they marked an important milestone in their lives in December.
Amy Stiles has taught hundreds of nursing students in the Living Classroom at Riverside Glen and says she was touched that this cohort chose to involve the village so intimately in the graduation.
"They really wanted to stick with their own group and have something that was personal and meaningful to them," Amy says. "It really just goes to show us how much they appreciate being here; they make friends with the residents and the team and they felt really as though they were part of the team here, so it's really rewarding for us, because that's our goal here at the Living Classroom."
Today, two months after the graduation, the graduated nurses are now in the process of officially registering and looking for work. Teshaynah has her sights set on a position within a cardiac unit at a large hospital while bridging towards a full Registered Nurse designation and eventually pursuing a master's degree. There is much ahead of her, to be sure, but with the foundation she created during her time in the Living Classroom she's well prepared for any ambitions she pursues, and the village will always hold a special place in her memory.