Launching The Ruby: The Hidden Gem at Tansley Woods
By Kristian Partington
There are many things that stand out when Ron Schlegel, the founder and CEO of Schlegel Villages, talks about his parents, Emma and Wilfred. They were hard working, kind people, dedicated to the community around them, he'll tell you. They served others faithfully, with no expectation of a return on their selfless investments, and their door was always open.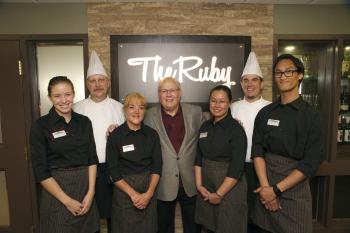 Ron will also tell you that his mother was an excellent cook, especially when he talks about The Ruby – the restaurant on the 10th Floor in the Village of Tansley Woods in Burlington that carries her maiden name. 
"There were always a lot of people at our house," Ron recalls. "I don't remember many evenings where we didn't have people coming into our place to visit . . . and so my mother would always make lots of extra food because she knew there'd be extra people there."
Wilfred was a pastor, and neighbours and friends often sought his wise counsel; Emma's hospitable nature helped ensure everyone was welcome.
Much of what inspires Ron's vision of life within the long-term care and retirement villages he and his family have designed and built is based upon experiences they had with his mother. The restaurant, led by chef Greg Leon, welcomes village residents and people from the surrounding community with equal vigour, not unlike Emma's kitchen once did back in the little village of Ailsa Craig, Ontario. When Ron's vision of a fully serviced restaurant within the continuum of care at Tansley Woods opened in 2013, it did so under the name Emma's.
On July 6, it was rechristened The Ruby, still honouring Ron's mother while playing on the restaurant's status as a hidden gem within the region's culinary scene. If the re-launch celebration was any indication, it won't remain hidden for long, for as many guests had arrived from outside the village as did from within to mark the occasion.
And just as Emma Schlegel's open arms and ability in the kitchen inspires The Ruby's approach to customer service, so too does her experience in later life define the type of care offered within the villages to those who are living with dementia and memory loss.
In her later years, Emma lived with dementia, and the care she received as memory loss progressed was far from ideal. As Ron says, "she was a feisty, independent woman," but at the nursing home where she lived in her final stages of life, nobody took the time to know her.
The memory care neighbourhoods within Schlegel Villages that will soon carry the name Emma's to honour the way Ron believes his mother should have been cared for. Dignity and respect for the whole person are central to the care residents receive in Emma's neighbourhood, and rebranding these neighbourhoods in her name pays homage to that one dimension of a remarkable woman. The Ruby pays tribute to another – that sense of hospitality, warmth and kindness found in the comfort of good food and company.
As Schlegel Villages continues to grow, The Ruby will be a fixture in all expansions, and Emma's neighbourhoods will always be places that honour the individual needs of all who make their home there.