Stan Belza vividly recalls the tension he felt when the time came for his mother Wanda to move from her Toronto home to The Village at Humber Heights. He'll also never forget the day she left – the bitter-sweetness of the dignity walk that carried her through the front door seven years after she'd first walked in.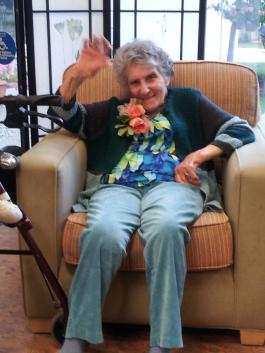 Wanda was in her early 90s when the time came to seek the support of The Village; she was not happy about the idea and let her family know it. Yet the family had prepared thoughtfully after they'd searched for the perfect home and discovered Humber Heights. They rented her suite empty for a month ahead of time and day-by-day, little-by-little, they began to move things in – a piece of furniture here, a photo there, the beloved painting of her late husband and her favourite chair.
When moving day arrived, the tension in the car as they drove to The Village was cold. "It was just frost inside the car," Stan says, unable to recall another time in his life when that silent anger had been so sharp.
And yet, when she arrived at Humber Heights, Wanda's kind nature and her old-school European upbringing dictated that no matter how she felt towards her son in that moment, politeness and good manners with the people who greeted her that day must prevail.
"She had to soften up because it would be rude to be anything else," Stan says. "She can be mad at me but she can not be mad at a stranger – it's just not possible."
Darla Walker was the first kind person to greet her that day, followed by another friendly face and another and another. By the time she arrived at her suite, her smile was wide and the sense of anger Stan felt before seemed to melt away. A familiar photo of two beloved dogs was upon her door, and she was surprised to see it. She questioned the photo's presence, and Stan told her this was her door now.
When they opened the door, her gaze was instantly drawn to a painting of her husband. "How did Michal get here?" she asked, and once again Stan told her this was her room now. She glanced around the room, noticing her chair, her ottoman, her dresser and all the familiar articles she'd grown to love over decades.
A tear rolled down her face.
"I don't deserve anything so beautiful," she said, and from that moment on she never mentioned her old house. She was instantly at home in The Village and she grew to be a fixture there, first upon the main floor, then in Emma's neighbourhood upstairs where she moved when she needed more support.
She was always reserved, Stan says, admitting he was surprised to learn just how much of an impact she had on the team members around her. That impact, however, was clear after Wanda passed away peacefully in mid-January in her 100th year.
Stan knew about the idea of the Dignity Walk, where the village stops in silence as a procession accompanies a resident through the front door after their passing; he'd seen a couple over the years while visiting his mother.
When Wanda was ushered out after taking her final breath, the entire village seemed to hold its breath. A fellow resident was at the piano by chance and when she suggested she stop for a moment of silence as the Dignity Walk passed, a team member said no.
Wanda enjoyed the music, came the suggestion, so why not play 'Amazing Grace?'
Tears, most certainly, accompanied the music but it made the moment all the more special. "It was really something," Stan recalls. "It took me by surprise . . . and I thought what an amazing, amazing place this is. I can't sing enough praises about it.
"It was one of the most moving, amazing things."
The sense that each person connected to The Village genuinely believes in what they do there and cares wholeheartedly for each person they serve shone brightly that day, Stan says, and he and his family will be forever grateful their mother knew such love.
She did, after all, deserve something so beautiful.