There's a spark of Grace that Mandi McEwan brings to the neighbourhoods and residents of Riverside Glen when she's in the village. As a personal support worker, she's kind, empathetic, and blessed with the ability to perceive the needs of residents well beyond the physical.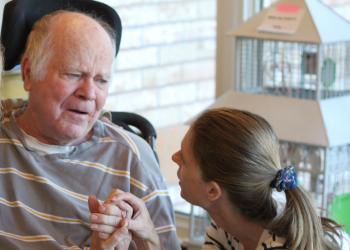 When a resident feels stress, Mandi can intuitively calm them. When they are grieving, they seek her for comfort and when they feel as though they've lost their sense of ability or independence, Mandi is one of the team members who inspire them to look to new possibilities.
For these and countless other reasons, Mandi received the prestigious Ontario Long-Term Care Association Personal Support Worker Leadership Award at the organization's annual awards Gala on Nov. 15. Out of the thousands of PSWs who support more than 76,000 long-term care residents in Ontario, four leadership awards are handed out to those who have "demonstrated leadership in advancing the quality and culture of person-centred care."
Riverside Glen and Schlegel Villages as a whole is beyond proud of her accomplishment.
"I think she is wonderful the way she helps people," says resident Beth Wells when asked about Mandi and the gifts she offers residents every day. "I feel she is a real friend that I can go to anytime. I think she's terrific. She's cheerful, she looks around and sees who needs help; she just knows what to do and does it."
In the last year, Mandi led the reestablishment of what has become a vastly successful restorative care program supporting no less than 40 residents in their efforts to regain aspects of their mobility and independence. She was also one of the key team members to help the formerly "secure" Mapleton neighbourhood unlock its doors and promote a new sense of community for those living with dementia or cognitive changes. Her positivity and ability to connect with residents and team members alike helped those who were skeptical move beyond initial apprehensions. Today, neighbours intermingle from neighbourhood to neighbourhood naturally, supported by team members throughout as needed. Mandi played a big part in making this idea a reality.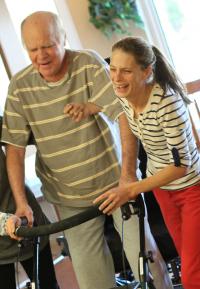 "Mandi's impact on our village is largely immeasurable and is largely reflected in the lived experiences of those who live in our village," wrote director of nursing care Hubrecht Quist when he nominated her for the award. "On the whole, Mandi is great at identifying those in need and acts selflessly to meet them, whether it's on our time or her own time.
"Mandi has created a true holistic culture in the village with residents, families and team members," he continued, "where she puts an emphasis on all areas of life and not just physical needs. Mandi's impact on the village is profound and it's hard to imagine a culture without her."