Apr 20, 2021 / Village Voice - Podcasts
Posted by: Kristian Partington
When the idea of auditioning to co-host a new podcast alongside respected broadcaster Erin Davis was put forth to Lloyd Hetherington, he fully admits he didn't have a clue what a podcast was and he'd certainly never taken the time to listen to one. Never one to shy away from a new educational opportunity, Lloyd, who calls The Village of Riverside Glen home, decided to go through the process, eager to help showcase and highlight the extraordinary lives of ordinary people who happen to be in their later stages of life.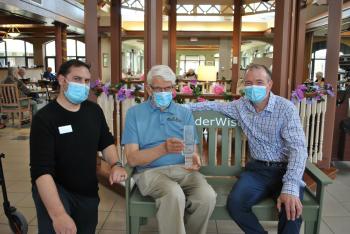 Ted Hudson (left) and Bryce McBain, General Manager at
The Village of Riverside Glen (right), present Lloyd Hetherington
with an award marking 10,000 downloads of the Stories from 
the Green Bench Podcast, which Lloyd co-hosts. 
"Much to my delight," he says, "I was accepted as the co-host for this podcast; it excited me then and it excites me even now to be part of this lovely venture reaching out to people to share the wisdom of the elders."
In mid-April of 2021, almost exactly six months after the first episode of Stories from the Green Bench first aired, Lloyd, Erin and the entire production team celebrated a remarkable 10,000 downloads of the show.
"We have always believed that the people we serve in our Villages have so much to teach us through the rich experiences of their lives," says Ted Hudson, one of the key developers of the podcast and the online engagement manager with Schlegel Villages. "It's amazing to know that this podcast is helping others discover a taste of that experience and maybe helping them rethink the role of older adults in our communities." 
When Ron Schlegel, the community builder and visionary behind the Schlegel Villages organization, speaks of the immense amount of wisdom our community's elders collectively hold, he describes it as the greatest untapped resource in our society. The #ElderWisdom campaign first brought the stories of Schlegel Villages residents to their communities in 2016 upon a "green bench" placed in prominent locations. It was a way to inspire others to recognize the wealth of wisdom seniors carry while "challenging ageist stereotypes," Ted says, "and the podcast has been a way to carry that message forward."
The idea of the podcast has been simmering for a few years, Ted adds, but when the COVID-19 pandemic struck in early 2020, limiting the ability of residents to physically be out in their community, the green bench became a virtual symbol and the podcast conversations began. The short episodes are authentic and honest conversations between the hosts and their guests. Personal philosophies mingle with memories and lessons learned, and we are reminded that it is often the simple things in life that carry the most meaning.
"I just love Lloyd," says co-host Erin Davis as she reflects on the evolution of the Podcast. "In a way, he reminds me of my Dad who is in a senior's residence in B.C. and is soon to be 88 years old. My Dad and Lloyd and so many other of our guests on #ElderWisdom share their stories, their perspectives, their loves, lessons and losses. It's like having a heart-to-heart every time and we really want to listen to what these elders say because when they're gone, many of the stories they share will be gone with them."
"That's why this Podcast is such a gift," says Erin, who is recently retired from a long career in radio and is now an author living on Vancouver Island.
The show is a preservation of history for us to savour, she says, remembering the wisdom of ordinary people who, over the course of lifetimes, lived extraordinary lives. 
---
Listen, Subscribe, Rate & Review
Apple • Google •  Spotify • iHeartRadio • Podbean • TuneIn • Amazon
Or ask your smart speaker to play "Elder Wisdom stories from the green bench podcast"