Sep 25, 2019 / Village Voice
Posted by: Kristian Partington
When the echoes of laughter and shouts of "fore" at Mount Elgin Golf and Country Club finally quieted at the close of the Annual Schlegel Villages Hand up Fore Haiti golf tournament Sept. 5, more than $25,000 had been raised to support some of Haiti's most vulnerable families through Fonkoze's Chemen Lavi Miyò (CLM) program. 

Mothers and families connected to Fonkoze's CLM 
program are walking the Pathway to a Better Life.
The annual tournament is an extension of the commitment Schlegel Villages made after a catastrophic earthquake struck the densely populated region around Haiti's capital city, Port-au-Prince in 2010. In partnership with Mennonite Economic Development Associates (MEDA), Schlegel Villages spearheaded a drive to raise funds through an annual 5K Walk/Run event and later, a golf tournament. Team members, residents, families and an amazing array of community partners continue to offer time and resources to this event, and as a result more than $325,000 has been raised to support the CLM program.
The core of the CLM program has always been supporting some of the poorest families in the rural countryside by offering women an opportunity to walk alongside CLM case managers through an 18-month education program. They learn to rear animals or start and manage small commerce businesses, while securing a safer home and education and healthcare opportunities for their families. Some 96 per cent of the women graduate – more than 5,000 so far – and the lives of their families are transformed for the better because of the program.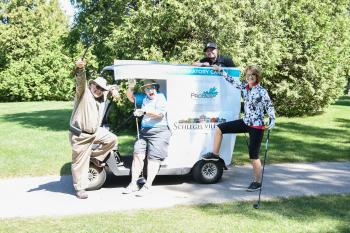 Pro-Resp is among some of the finest sponsors to support
Schlegel Villages and its efforts to raise funds for CLM.
I personally met some of these families when I visited Haiti in 2014 and 2015. I saw the shame in the eyes of women who were just beginning the process because they felt they had no worth, and I saw that shame melt into pride as participants invited me into their homes midway through their 18-month educational quest. I was also at a graduation ceremony in 2015, and there is no sound comparable to that of more than 100 proud Haitian women, singing their praises and gratitude for the CLM program and the donors that make it possible. This is money well spent and this year, Schlegel Villages was proud to offer direct support beyond the money raised through the golf tournament to help one individual in particular, a CLM team member who overcame the struggle of paralysis after taking a bullet during a mugging.
In 2015, the CLM team expanded their reach through a pilot program to see if the concept could be used to support people living with disabilities, and the team met Luckson François. They quickly saw his potential and he has been a trusted Data Entry Agent for CLM since then.

Beyond funds raised through this year's tournament,
Schlegel Villages was able to support the drive to
raise money to help CLM team member Luckson François
purchase a vehicle that can accomodate his wheelchair.
In early September, a call came out to support Luckson in his quest to purchase a vehicle that could be modified to help him navigate the winding Haitian countryside in the hopes of continuing to pursue his education.
"His dream is to go to college, returning to the path to higher education that seemed forever lost to him when he was shot," writes CLM's Steven Werlin in his fundraising campaign introduction, "but the complexities involved in travelling to and from a good school have proven too much so far. Luckson could change his life if he had his own automobile."
Just as Schlegel Villages is honoured to share its love for community with families supported through the CLM program, it is also happy to offer a $1,000 donation to support Luckson's worthy campaign. We wish him, the CLM team and the many families walking the Pathway to a Better Life all the best.
To learn more about the CLM program, please visit the website here and to follow Luckson's progress, you can check out his GoFundMe page here.