5th annual Hand up for Haiti event a success
By Kristian Partington
The sky was dark as the wind threatened to bring cool rain over the Williamsburg Town Centre in Kitchener on Sunday, Sept. 13, but the crowd that had gathered that morning was in bright spirits as it prepared to kick off the 5th annual Hand up for Haiti Walk/Run fundraiser.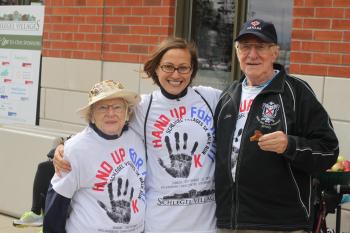 Residents in their 80s and 90s from different Schlegel Villages mixed with team members and families to form the wide community that has chosen to show its support and solidarity for some of the most vulnerable families in rural Haiti. This is the extension of a relationship that has flourished over the past four years between Schlegel Villages, its community partners, Mennonite Economic Development Associates (MEDA) and Fonkoze's Chemen Lavi Miyó program in Haiti.
In its first year, a small committee of Schlegel Villages organizers felt $10,000 was an ambitious goal. That year more than $25,000 was raised to fund the CLM program, which focuses on giving some of the most desperately poor families in rural Haiti the tools they need to walk a path to a better life. The hope among organizers this year is to push the total raised in five annual walks towards $200,000 overall.
"It's a little cool today and I wasn't going to come, but I really just thought I should," said Barbara Skipper, who at 91 years of age seemed to have no trouble braving the first breaths of autumn's damp chill. It's a good excuse for some exercise and she knows the money raised is for a good cause, she said with a smile, "so I was happy to come."
Barbara's connections to Schlegel Villages go back to her first home at the Village of Riverside Glen in Guelph and she recently moved to Etobicoke's Humber Heights. She's always been an active participant in village life, so she's well aware of the efforts over the past years in support of CLM and the Haitian families it serves. Support for neighbours fits right in line with the philosophy that she says has helped keep her young and healthy all these years, right on into her 90s.
"You just gotta' be good," she said. "I try to do what's right and try to keep active." To be part of a large group that's helping faraway neighbours is a nice way to give back, she adds – not everybody her age is able to connect with others in a shared sense of purpose like this.
Barbara, like many connected to Schlegel Villages, is proud to know her efforts are part of a global network offering a sense of hope and renewal for families in Haiti that are struggling so hard for the most basic of necessities. In early 2016, a group of 25 Schlegel Villages ambassadors will carry that goodwill to Haiti in person on behalf of supporters like Barbara. This will be the 2nd volunteer/education opportunity in Haiti for a Schlegel Villages team since 2014, and the hope is that this year participants will forge an even greater understanding of just how important the fundraising efforts are for the CLM families.  The intention is for the team to offer their skills in a clinical setting and they'll also have the opportunity to meet some of the people whose lives have been transformed thanks to CLM. 
The reward for all of this is in the smile of a Haitian child returning to a safe home from a school they never could have attended before CLM. It's in the face of her mother, who knows her baby need never go hungry again – a mother who works hard to grow the commerce of her humble small business while feeding her children. It's in the pride of a young man, tending his small flock of livestock and learning the value of hard work and family connectedness, and it's in the commitment the CLM team has to the success of the families it supports.
This has been another successful effort for the Hand up for Haiti supporters, and the rewards will just keep coming.