Erin Meadows resident David Kent presents at the Pioneer Network Conference
By Kristian Partington
"It's a surreal experience," said David Kent as he prepared to leave for Chicago to attend the 15th annual Pioneer Network Conference. David is among 18 Schlegel Villages ambassadors attending this year's conference, arguably the most advanced of its kind focused on the concept of culture change in the world of aging, long-term care and retirement living. Not only is he attending, however, he also has the unique distinction of acting as a guide at this year's event, sharing the story of his journey in long-term care during a session on Aug. 3 – almost exactly one year to the day after he moved into The Village of Erin Meadows.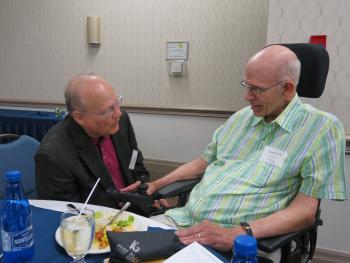 "Within a year, what's happened in my particular situation is unbelievable," David says. "The transformation has been pretty well complete."
When he talks of transformation he points to the man he was a year ago, "sentenced" to live out the rest of his days in long-term care after living with a slowly degenerating physical disease for 40 years. Within a few short months, David says the feeling of hopelessness that came with the decision to move to Erin Meadows was replaced with a sense of belonging and inner peace that he had never thought possible.
Alongside Erin Meadows general manger Anneliese Krueger and assistant director of nursing care Alisa Anguine, David presents Seeing New Life Through the Lens of Well-Being: One Man's Journey in Long-Term Care. The session explores how the Seven Domains of Well-Being (connectedness, autonomy, security, identity, meaning, growth and joy) tie into David's life every day. By looking at life through this lens, David has capitalized on his experience as a teacher within the home and has found a new sense of life purpose in the culture change movement.
This conference is sure to enflame that sense of purpose and he says that, among many topics, he's looking forward to discussions on the role of spirituality in aging, for spiritual connections have certainly played a major role in his life.
"I feel I'm here for a purpose," David says, "and I didn't feel that until certain stuff was lined up." He was able to get into Erin Meadows within three days of applying when he was told to expect as much as three months, he points out. When he arrived, he found his physical needs were met but beyond that, he found new opportunities to grow in his true identity. He leads regular seminars focused on Canadian history, has helped organize excursions to explore the themes of these seminars in greater detail and now he's part of a team helping others discover a new reality in the world of long-term care.
"I almost feel it's a mission for me to explain and tell these people what I see and feel here," David says. It's a mission he's beyond proud to undertake.