Feb 10, 2020 / Village Voice
Posted by: Kristian Partington
When Nghiep Tran moved to The Village at St. Clair in 2017, he was learning to live with the results of a stroke that left his mobility completely compromised, so much so that he required a mechanical lift to help him in and out of bed every day.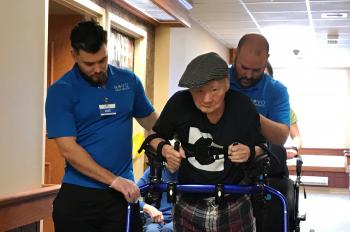 Physiotherapy assistants Jake and Steve work with Mr. Tran during
his regular exercise efforts in The Village at St. Clair. 
That loss of independence at the age of 87 didn't shake his ambition, however, and he's been working with team members in The Village three times a week ever since. Today, three years later, it's not uncommon to see him walking with a couple of physiotherapists and the support of a mobility device through his Kingsville neighbourhood.
His sister, who visits five times a week, says the progress he continues to make is a great point of pride for her brother.
"He's very happy," she says, translating for her brother who only speaks Vietnamese. "He keeps getting stronger."
And the team is just as happy to see the progress Mr. Tran continues to make. 
As a physiotherapist, Steve Bates has been working closely with Mr. Tran for several months. He says to "see a progression this big, from only being able to walk through the parallel bars (in the gym) to being able to walk around the hallways, he was very excited and we are very excited."
The fact that Mr. Tran has been motivated to improve since his stroke is a major factor in his improvement, Steve says, as is the dedication of all the team members who support him and his fellow neighbours within the Village.
Personal Support Worker Jeff Studman has been at St. Clair for more than 5 years, and in Mr. Tran's neighbourhood for two. Jeff was once a factory worker, but he saw the relationships his grandfather had during in his time in hospice care and Jeff realized then he wanted to work in a way that could support others.
"I've been doing this for ten years, which is unbelievable," he says with a laugh. "I got into it because I like taking care of people."
When he sees Mr. Tran making steady progress, he sees an example of why he loves the job. "He's pretty motivated and I like giving him words of encouragement."