Doors to new conversations are opening, but more needs to be done
By Kristian Partington
One of the greatest challenges when it comes to changing the culture of aging is found in the entrenched, stereotypical views that tend to dominate the imaginations of younger generations when they consider what it means to grow old.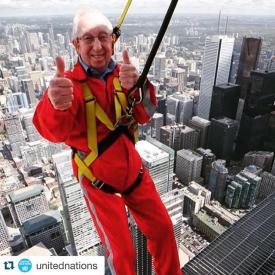 Alzheimer's disease, for example, translates automatically into horrific images of the latest stages of the disease, with no regard to the fact that people can live well for a long time in the face of a dementia diagnosis. Feeble or frail might be two words that come to mind when one thinks of a person in their 90s, whereas terms like vibrant and dynamic are reserved for those in the prime of youth or even middle adulthood.
But this is changing thanks in large part to the proliferation of social media outlets like Facebook, Twitter and Instagram. These platforms allow the stories of energetic older adults to emerge and counter the stereotypes that traditional media outlets tend to perpetuate.
Take a photo of Tansley Woods resident Ted Woodley, for example, which recreation director Chris Poos submitted to a World Health Organization Instagram challenge asking people to counter age-related stereotypes. Chris submitted the photo of Ted, taken during his walk on the edge of the CN Tower in Toronto last summer, with the hashtag #yearsahead, and almost instantly more than 1,000 people had liked the picture. The United Nations later reposted the photo and as of mid-February, more than 7,000 people have seen Ted giving his thumbs-up from high above downtown Toronto, generating nearly 200 comments from around the world. 
"It is a testament to the change that Schlegel Villages is having, not only within the villages or communities that they are in, but across the world," Chris says. "They say only bad news sells, but look how much one 92-year-old man can inspire a world."
And while it's easier to find stories of inspiration through social media sites these days, it's also easier for people who might otherwise feel isolated to connect to others around the world who share their challenges.
Laura Bowley, founder of the Mindset Centre for Living with Dementia and a new Schlegel Villages partner, says social media platforms are helping people living with dementia and their loved ones share their reality with the world. 
"It's incredible, what's happening," Laura says, discussing the reach social media is providing for those who often don't have a voice. "Our whole view of dementia is jaded by what is portrayed in the media and we really need to hear the stories from the people with dementia themselves to truly understand what they're experiencing."
In late January, Laura created a Facebook page called My Dementia Story, offering another platform for people living with dementia to share their insights. Laura will also be working with Schlegel Villages alongside partner Maureen Matthews, creator of To Whom I May Concern, to help residents living with dementia to share their stories in unique ways. As each story is shared through all the various platforms, more is done to chip away at the stereotypes of aging that still dominate viewpoints in most circles.
There is still much to do, however.
"I think we have opened the door for those conversations to start taking place now, but I don't see enough conversations taking place yet," Laura says. "It needs to become much more mainstream – it needs to be more the norm."
And this, ultimately, is the great quest of the culture change movement. 
Follow Schlegel Villages on Twitter @schlegelvillage or click here to find us on Facebook. Laura Bowley's My Dementia Story Facebook page can be found here. To see the original story about Ted Woodley's CN Tower Edgewalk, click here.