NIAGARA FALLS, Ont. – When the last of some 360 personalized gifts were handed out to attendees at the end of the three-day 2018 Schlegel Villages Operational Planning Retreat, the final act of kindness closed what was by all accounts one of the most impactful conferences of its kind within the organization.
Year after year, the retreat has drawn leadership team members together with the finest direct caregivers (success award winners) to learn from keynote speakers, rejuvenate their commitment to the organization's values and plan for the next year's growth. This was by far the largest gathering yet as the organization continues it's growth and expansion, but the size of the group had no impact on its engagement; people were there to learn and contribute, and the theme Happiness By Design drew them in for the entirety of the event.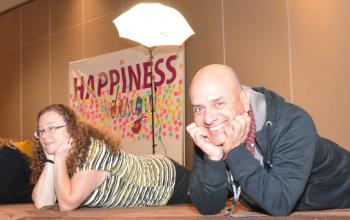 Today, approximately 5,000 team members are connected to 19 villages across the province and that number will rise by another 1,000 in a few short years. In a competitive market where strong, compassionate healthcare workers are in short supply, it's imperative that Schlegel Villages remains an employer of choice. Creating space for team members to experience true happiness and joy in their work life will set the organization apart, and that positive team member experience can only translate into the life quality of each resident.
"Our culture is so valuable, so close to who we are," said Chief Operating Officer Paul Brown as he set the stage for three exciting days during his welcoming address. "If there's going to be an increasing number of residents for us to serve . . . but there's a decreasing pool of people available to work, then it's about hiring the right people who are aligned with our culture."
For this reason two of the three days at the retreat were set aside to focus on the teams, "so that we can try to find a way to create happiness by design," Paul explained. "What we don't mean is that we're trying to create some mechanical or formal or systematic process where automatically if you do 'this' you ought to be happy. That's not happiness by design.
"What we mean is," he continued, "how can we be intentional about creating a place where people are happy to come to work, where the team members themselves can also live lives full of meaning and purpose through the work they do?"
Led by Jim Moss, Chief Happiness Officer with Plasticity Labs, Day 1 focused on the fact that neuroscience backs up the premise that people have the ability to train their brains to recognize opportunities for gratitude. In doing so, a true sense of contentedness permeates the daily struggles, building the necessary resiliency to face life's difficulties when they arise.
Day 2 offered an appreciative inquiry summit where 360 people took stock of the good things that are happening in the villages today in order to imagine what things could and should look like in an ideal future.
Day 3 offered an opportunity to learn about effectively measuring and enhancing life quality in the villages. After this session, the group celebrated the upcoming launch of the LIVING in my Today dementia philosophy that will guide much of the future supports for residents and family living the day-to-day reality of dementia. Keynote speaker Brian LeBlanc then shared his views on living well with dementia to a resounding ovation.
It was an intense three days filled with heaps inspiration; upcoming Village Voice stories will attempt to capture the essence of this powerful conference, while team members at home spread their energy within their respective villages.
In the meantime, if you have any questions, comments or ideas you'd like to share related to either the conference or your own personal philosophies on Happiness By Design, please contact Kristian at pwritingstudios@gmail.com.