Oct 08, 2019 / Village Voice
Posted by: Kristian Partington
Richard Carruthers and his wife Sharon are sitting at the large table in the Council Chambers off Main Street in The Village of Arbour Trails for lunch. They are surrounded by the love of their daughter Wendy, her husband Luis and two of their beautiful grandchildren, six-year-old Gabriel and 12-year-old Marisol.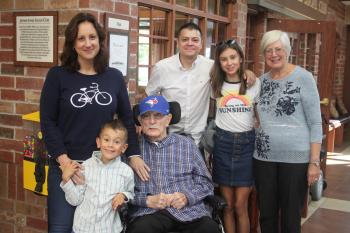 Richard and Sharon together in their home at Arbour Trails
with Wendy, Luis, Marisol and Gabriel.
Marisol was the impetus behind this gathering on a bright Friday morning in late-September. She chose to respond to a contest arranged by Schlegel Villages to celebrate the love of grandparents, writing about the compassion and humour her 'Grumpa' Richard passes to his grandchildren whenever he's with them. Her entry was randomly chosen and this lunch, graciously hosted by the Village's hospitality team, is her reward.
As the stories begin to swirl around the table, it becomes instantly clear that Richard's kind heart is a strong influence on his family, and Marisol says he always went out of his way to make sure each of his grandchildren felt his love in their own way.
"It was always a competition to try and get the most love from Grumpa," Marisol says with a laugh. "He always made sure everyone had a special nickname. 'Sweetie Pie,' that's what he calls me; it was always really special to me and he never forgets it. He always made everybody feel like they had a special place with him."
Marisol remembers the family gatherings during the holidays as special times, but when her mother mentions the family cottage near Haliburton that Richard built decades ago, the stories begin to swell. It's a magical place for the grandchildren, just as Wendy and her sister have fond memories of their childhood on the lake.
It was on that lake that Sharon and Richard met and fell in love. She had a summer job in a restaurant there and when Richard walked in one day, there she was. Their summers together in the calm woods of the Haliburton Highlands began there, and the family is bright with smiles as they share their memories of the cottage.

The cottage on the shimmering waters of the Haliburton 
Highlands where Marisol and Gabe swim is a 
gift Richard gave to his family.  
Luis discovered old photos and home movies shot on film reels at the lake and he has carefully saved them to digital files. They go back to an era before 'cottage country' opened up in central Ontario, and the Carruthers family had an important role in that era. Even at their young ages, Marisol and Gabriel seem to understand the value in this connection through generations, and their gratitude for that comes through as they talk about their grandparents with adoration.
Gabriel loves swimming in the warm water, he says, sometimes without the constraints of a bathing suit, and Marisol loves connecting with the large extended family on a bay with several Carruthers cottages. "There are always dock parties and dinner parties," Marisol says. "It's the one place you're guaranteed to see everybody."
Marisol also talks about the special trips they would take with Grumpa to the famous Kawartha Dairy Ice Cream shop off Highway 35. He would take only one grandchild with him on those trips, and that was a special time for each of them. No cone filled with ice cream was too large on those trips.
It's a gift, this cottage, that Richard gave to his family, and they certainly cherish it. "I used to spend all summer up there when I was a kid," Wendy says, "and to be able to have my kids go and have it be an important part of their lives is a tremendous gift."
Of course, it's not just the cottage memories that matter, for they cherish all their time with Richard and Sharon, and they're clearly comfortable spending it together at Arbour Trails. A home is built around love, first and foremost, and sitting around this table for lunch, Grumpa and his family are right at home.