'I don't like to see anybody sitting in their room downhearted,' says Gord McIntee
By Kristian Partington
Within days of arriving at his new home at Coleman Care Centre in Barrie, Gord McIntee found himself sitting in on the Residents' Council meeting. When he left the meeting, he was the new council president.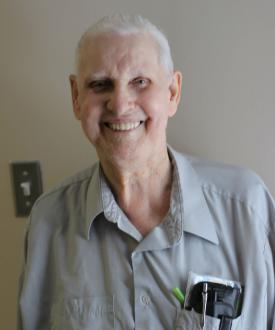 "All my life I've not been afraid to talk to anybody and do anything," Gord says, and he figured if he and his wife Coral were going to live at Coleman together, he might as well get involved in what goes on at the home. He jokes that in his working days he managed 112 people in a hardware company, now he manages more than 115.
In reality, however, he sees his role not as a manager but more as someone who helps other residents see the importance of taking an interest in what happens in their home. He's always recruiting new people to participate in the regular council meetings, if for no other reason than to let them know that they have a voice and the team at the home is eager to hear it.
He points to a picture on the wall in his room of he and some fellow residents during a Muskoka Boat Cruise, one of the highlights of the summer the past two years in a row. These annual trips, he says, are something the Residents' Council put forth as an idea and the team at the village helped make them happen.
"I'm quite active around here," Gord says. "I get the pleasure – there's nothing nicer than to turn around and do something good for somebody else, and that's what my main goal is."
He's there for fellow residents to help resolve any issues they may have just as he's a fixture calling Bingo twice a week, and he'll often be found checking in on residents who don't leave their rooms very often, making sure they're all right. "I like to go one on one," Gord says when asked what he does to make sure the residents' council speaks for everyone. "Today I may go down to a resident's room and I'll sit there and talk with them a while, and ask them how they're feeling and do they need anything?"
These conversations, he says, can make a difference in the lives of others. "I don't like to see anybody sitting in their room downhearted – I like to see them involved and I try to do as much as possible," Gord says. "I feel it's my job to try and get as many people as possible happy."