When the word innovation comes to mind, many are quick to think of a physical invention, the creation of a tool that can make life a little easier or the enhancement of existing technology to save people time and effort, for example.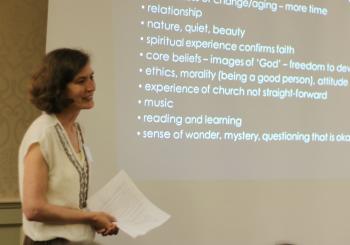 When Maureen Dwyer and Jane Kuepfer spoke at the annual RIA/Schlegel Villages Innovation Summit in June, however, they shared insights into a kind of innovation that involves the less tangible realm of spirituality and its connection to the aging soul. In their session, Maureen, the Village chaplain at Glendale Crossing and Jane, the RIA's Schlegel Specialist in Spirituality and Aging, challenged attendees to look beyond religion and consider the individuality of spiritual connection.
"Some people are religious," Jane pointed out at the beginning of the session, "while all people, it can be argued, are spiritual."
When it comes to support for the spiritual and religious needs of older adults facing the late stages of life, both Maureen and Jane have identified a need and a desire for continuing education on spirituality. Many people who have deep faith in their religion of choice, for example, find comfort in their understanding of their chosen God and the afterlife they believe in, but who or what do people who don't have a faith community turn to? How do we recognize the spiritual experiences that have happened to people in the past and honour those pivotal moments in time?
"We all have our own individual spirituality," Jane said. "There are things that matter deeply to us and we've been raised in different contexts, had different experiences and there's a lot that goes into our spirituality and it continues to develop for our whole lives, right until the very end."
The fact that each Schlegel Village has its own dedicated chaplain sets the organization apart in many respects from other organizations, Maureen pointed out, offering residents a unique opportunity to explore spirituality in many different contexts.
At her village in London, for example, where most of the residents tend to reflect the white, protestant background of the older generations of the region, the team members "reflect the wonderful diversity of our culture and different beliefs, which is wonderful because we all learn from each other."
Having team members share their connections to diverse religions is one way to help residents satisfy their ongoing need for continual spiritual education. At Glendale Crossing, such sharing opportunities were "a great educational tool, particularly for our residents who hadn't had any experiences outside of the old-fashioned organized religions of North America, and it was nice for them to see staff in a different way and build those relationships with them."
 Looking ahead to the needs of the future in terms of spiritual innovation, Jane's current work with the RIA expands upon a study by her predecessor, Marianne Mellinger, who conducted a series of interviews with women of the baby boom generation to learn more about their spiritual choices and needs.
"Some of the research that's happening now in the field of spirituality and aging is looking at the life experience of the baby boom generation," Jane explained, "and what we need to pay attention to as we think about providing spiritual care for the next generation that's coming through."
Jane is expanding the demographic of the baby-boomers she's speaking with the gain a broader understanding of their choices, desires and needs. The best way to address these needs may be as simple as "meeting people where they are," Maureen pointed out, and every person has the ability to do this, not only a chaplain.
Spirituality, at its core, may be remarkably consistent throughout the course of time, but the way it manifests itself through human expression continues to evolve. To truly support an aging population in body, mind and spirit, spiritual innovation will remain as important as any other invention or technological enhancement. 
---
Learn more about The Village of Glendale Crossing