Feb 13, 2020 / Village Voice
Posted by: Kristian Partington
This past December when their extended family gathered at Christmas, Jean Parkinson recalls her husband Warren looking around the large room from happy family to happy family. They have five children, 13 grandchildren and 10 great grandchildren, and almost all remain close to their family roots in the Guelph area; it's always a special time when they're all able to come together.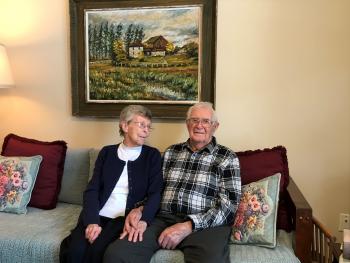 Jean started chasing Warren more than 70 years ago, and
the love they share remains an inspiration for many. 
"There's so many," Warren remarked as he glanced around the room. "Well Warren," came his wife's reply, "we started it all." Their warm laughter fills their suite in the Williamsburg neighbourhood in the Village of Riverside Glen as they talk of their beloved family. In September 2020, the Parkinsons will celebrate 70 years of marriage, and their family is an obvious point of pride as they reflect on nearly eight decades of love and friendship together.
They met when they were sparkle-eyed teenagers at a youth dance, as so many of that generation did. Jean was the one to make the first move and ask Warren to dance, however; a favour, she says, to a friend who fancied the boy he stood beside.
She was chasing him then, she jokes, and she chases him still today, though this time it's with a walker through the halls of Riverside Glen. Warren is forever thankful she started after him at that dance so long ago.
"I would be so lost without my wife," Warrens says with a wink above a forming grin. "She could make out without me, but I'd have a tough time looking after things without her.
"She takes care of everything."
It's clear through the short conversation with Warren and Jean that laughter is a big part of their decades together, and it helped them through the difficult obstacles of life. They had their share of those, they admit, as have all who live to see their early 90s.
Warren sits under a painting of a stone farmhouse, for example, and the story of one such challenge flows as he describes the painting. This was the house and farm where he and his father before him were born and raised; the farm he and Jean took over when they married in 1950. In 1974, it was swallowed by the flow of progress, expropriated amid the flooded Speed River basin for 100-kilowatts-a-year of hydro-electricity. The five-acre parcel they were left with overlooked Guelph Lake, and they still recall how hard it was to leave the original farm.
But they eventually built on that new site and created countless fond memories there. They moved one last time to Riverside Glen some three years ago, and they say they're happy to have created a new home within The Village.
"This is home," Jean says, and Warren adds that he only one word to describe the team members who support the Village residents: 'kind.'
And if you've got kindness, Jean says, "you've got everything."
Reflecting upon love in life on the eve of St. Valentine's Day, it seems Jean and Warren Parkinson have everything they could ever need – kindness and so much more.