ProResp and Schlegel Villages reflecting on connections to Haiti
By Kristian Partington
Bill Cummings has been to a resort in Cuba once, but that was his only real taste of the Caribbean. Haiti, then, was a bit of a stretch for him when he joined a team of Schlegel Villages ambassadors in the early part of February for a volunteer and education trip.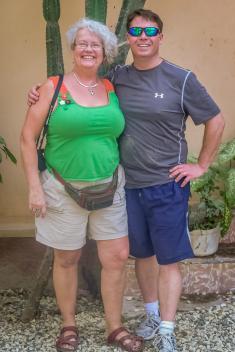 Bill joined the group as a representative of ProResp Inc., a long-time Schlegel Villages community partner that looks after the bulk of the respiratory services within the villages. ProResp is also a committed supporter of Schlegel Villages' work with the Haitian organization Fonkoze and has been a generous donor since the first Schlegel Villages Hand up for Haiti fundraiser in 2011.
One of Bill's team members, Jean Lefebvre was part of the first group to visit Haiti in 2014, so Bill had heard many stories and had a picture in his mind of what he might expect when he first touched down in Port-au-Prince. 
Still, "no matter how many conversations I had with Jean and how much he explained everything, it was still a complete eye-opener," Bill says. "It was an amazing place."
In Port-au-Prince, Bill and the team spent time at an English school, an orphanage and palliative care home, before venturing north of the city to Mirebalais, where they were immersed in the work Fonkoze does with some of the poorest families in the rural countryside through the Chemen Lavi Miyó (CLM) program.
There is an edge to Port-au-Prince, especially for someone with no experience in a country like it. There's the chaos of the traffic and the scale of poverty that presents such challenge for so many Haitians, so the first day brought lots of emotion, Bill recalls. By Day 2, however, everyone was throwing themselves into the work and soaking up every opportunity to learn more about the fascinating country and her people. They met CLM families, who have benefitted greatly from the donations generated through Schlegel Villages, ProResp and many other donors around the world, and they were part of a CLM graduation ceremony that marked a massive milestone for the women at the core of the program.
Haiti, in many ways, is a nation of contrasts.
"There was the poverty, which was quite extensive, but then seeing how happy the people were and how open the people were (brought) these conflicting types of emotions," Jean recalls as he and Bill trade stories. "The first few days were pretty intense."
Being welcomed with open arms by Haitian hosts certainly eased any initial apprehensions, Bill points out, as did finding such an easy connection with the Schlegel Villages team, most of whom were unknown to him prior to his Haitian adventures.
"Everybody on that team brought their own stories and their own values – Schlegel values – and I expect to be at least Facebook friends with them for life," Bill says. "I learned just as much from them, at times, as I did with the Haitians."
ProResp general manager Miriam Turnball listens intently as Jean and Bill discuss their time in Haiti getting to know the Schlegel Team at a different level while seeing the impact of the overall partnership with Fonkoze firsthand. It's clear this isn't the first time she wished she'd been part of the adventure.
"In any partnership, no matter where that partnership is, you need to have somewhat the same values and somewhat the same overall objectives," Miriam says. "I would say that ProResp and Schlegel Villages are very much aligned in overall purpose. We want to be that corporate organization that gives back – we are very, very blessed and we need and want to give back. We have never, ever suffered as a result of being generous and I know we never will."   
An organization, Miriam points out, is only as good as the people who work for it, and a trip like his has a way of highlighting the strength of the people that both ProResp and Schlegel Villages are fortunate enough to have. Bill points out that the people who work for the CLM program in Haiti underscore this truth as well, for they are truly dedicated to helping some of the poorest families in Haiti build a new life for themselves.
As organizations, Fonkoze in Haiti and ProResp and Schlegel Villages in Ontario take a lot of pride in making a meaningful difference in the lives of others.
"We do that every day," Miriam says, "and this (partnership in Haiti) just extends that to a whole other dimension. How meaningful and important it is for us as an organization to look beyond the walls of our own nation, our own province and into the bigger world that truly needs to learn and benefit from all we have."