Jun 20, 2023 / Village Voice
Posted by: Kristian Partington
Shirley Tulk was in a serious place of life transition when she came to work at The Village of Winston Park in Kitchener. For 22 years she'd been entirely focused on the needs of her two children, who each live with autism, but once a residential housing option became available for her child with the greatest of needs, she realized she needed to rediscover herself.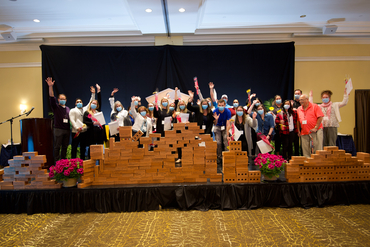 "Who is Shirley after 22 years raising these children and fighting for their rights and doing it all," she asked herself. "Who am I?"
At the recommendation of a friend, she joined the housekeeping team at Winston Park and immediately fell in love with the Village community. Not only was her work ethic noticed but also her ability to connect with her fellow team members and residents.
Little more than four years later, she was offered the position of Assistant Director of Environmental Services and this Spring, she was among the graduates of Conestoga College's Leadership in Senior Living Program honoured at the annual Schlegel Villages Leadership Retreat.
She admits it had been a long time since she'd followed any type of academic pursuit and the course added to her already busy schedule, but she's grateful she followed through with it and for the faith she felt from the leadership team at Winston Park. 
Shirley says she gained new insights on problem solving and she's more comfortable addressing team member concerns and recognizing the challenges they each face in their individual lives. With better communication comes a renewed ability to focus on resident-centred care.
"I learned through the course that your biggest key here is trying to make sure that that we're approachable," Shirley says. "I feel like I'm approachable to all and when they come to me, I try and do everything to follow through to show that they've been heard."
The five-module leadership program is designed with the specific nuances of senior living at its core to help leaders develop the people they serve while always concentrating on the principles of resident-centred care. 
Trish Baird is the Wellness Coordinator at The Village of University Gates and was part of the same cohort as Shirley. She says the opportunity to connect and learn from others in the Schlegel Villages community was invaluable and she also says she personal felt invested in after she completed the program.
"This course takes a lot of commitment," Trish says, "but in the end it provides a great foundation of leadership styles that are effective and easy to integrate into everyday work life.
"I feel more confident in my leadership style and techniques since completing this course," she adds. "It reminded me that I can do hard things."
Schlegel Villages is preparing for another cohort to begin the program this fall and Christy Parsons, Vice-President of People with the organization, says it's a great opportunity for current and aspiring leaders to build upon their existing ability to serve both team members and residents.
"Growing team is fundamentally the most important role of a leader," Christy says, "so it's critical we understand what behaviours and skills are required to be a successful leader at Schlegel Villages. The leadership program builds capacity in our leaders and provides them with practical tools to better serve their neighbourhood teams or help them prepare or their future leadership roles."