Aug 14, 2020 / Village Voice
Posted by: Kristian Partington
There were a couple of factors that prompted Mickey Mai to walk into Mississauga's Erin Mills Lodge back in April to offer his services in any way they could be used. COVID-19 had affected the income he and his parents were able to earn, for one, but more importantly, he had seen how much of an impact the virus had on long-term cares homes across the country and he wanted to help.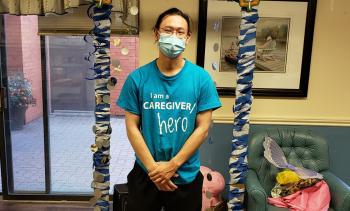 Mickey says he is greatly impressed with the perseverance 
of the residents and his fellow team members at Erin
Mills Lodge, and he's proud to be part of the small Village. 
Mickey has some background in food services, so he applied to Erin Mills Lodge with that in mind. He does live with his parents, so his only concern was for their health, but after much discussion with them and his understanding of the Infection Prevention and Control (IPAC) protocols the team outlined for him during the interview process, he decided to dive in.  
"Schlegel Villages had more than enough PPE and had a lot of precautions in place and that helped the discussion with my parents move along," Mickey recalls. It was a different situation than many of the media reports had described at the time, and he was confident in his safety and that of his parents; he was eager to begin supporting the residents however he best could.
He and the team quickly learned he fit into many roles within the Village which, at the time was working tirelessly to manage a serious outbreak of COVID-19, and his help was more than welcome.
"One thing that was surprising and encouraging was the perseverance of the elders and the perseverance of those who are working there," Mickey says. "The onset of the pandemic was so short and the amount of work that needed to be done was exponentially increased. Even when I talked to any of the residents about their experience from the beginning, they're very gracious and very understanding of the entire situation."
The extra time he's able to spend with residents is one of the greatest gifts he says he receives in the role he now has in The Village, filling whatever need may arise outside of clinical support. 
"When we are able to give our time to the residents to have that conversation, to them it could make their entire day," he says. "Having those conversations has brought me the most joy, whether it's with the residents or the team members. The general attitude of everyone coming together and watching each other's back and making sure they're doing well; I think that feeling of family or camaraderie has been very encouraging."
It seems that in times of crisis, that is when the best or worst can emerge in people, and Mickey has seen the best these past months.
"Taking that extra step to ensure the residents are safe is not just an empty statement," he says. "It's actually something that many of the workers believe in and that's how they work as part of Schlegel Villages."
The team is part of something much bigger than any one Village, and for Mickey, who was a seminary student studying at Toronto's Tyndale University when the pandemic hit, it's important to see that sense of collective humanity at play. It's a great lesson to come out of hardship, and one he welcomes every day as he admires the team he works alongside and the residents he proudly serves.