Brian Leyes was in good company on Nov. 23 when he came before The Honourable Elizabeth Dowdeswell, Lieutenant Governor of Ontario, to receive one of 16 Ontario Senior Achievement Awards during a ceremony at Queen's Park in Toronto.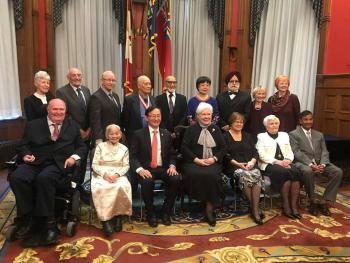 He was among advocates for social justice, equality and language rights, as well as people who volunteer for youth camps or create seniors' clubs in small communities to encourage older adults to remain active and engaged. Brian and the 15 other recipients share some definite commonalities, namely their dedication to the betterment of their communities after they've moved beyond the age of 65.
"These outstanding seniors are examples of how everyday Ontarians make a positive difference in our communities," the Lieutenant Governor said. "The dedication and compassion of today's recipients make them role models to Ontarians of all ages."
For his part, Brian has become a fixture along Main Street in the long-term care district of The Village of Taunton Mills, where he has lived for nearly three years.  Before Brian, the General Store there was active but missing some of the vibrancy it knows today. Using his skills as a successful businessman who owned and operated four pizza shops, he's revitalized the store and helped it morph into a part of the village fabric.
"I love to see the smile on their faces," Brian said of his fellow residents when asked what he loves most about running the store. They sometimes come for a sweet treat, but more often they come simply to chat with the shopkeeper, who always seems to have a smile upon his face."
"Brian was a godsend," says Tony Sibley, a resident who operates the neighbouring store off Main Street in the retirement district of The Village. In many respects the general stores are like social hubs off Main Street, Tony says, where neighbours stop in for a small treat or a personal care item and inevitably find themselves chatting for extended periods of time. It's just as one might picture the general stores of small communities a century ago, and they make the village that much more comfortable. For them to work, however, someone must take the lead and Brian did just that.
Residents are grateful for his efforts and they also appreciate his service as an advocate and president of residents' council. In that role he uses his influence and connections among both the team and the residents to promote resident-centred care and continue the village's constant quest to grow better in its service to the community.    
---
Learn more about The Village of Taunton Mills