Oct 16, 2023 / Village Voice
Posted by: Kristian Partington
On the first day of the 2023 Schlegel Villages Operational Planning Retreat in Niagara Falls, the crowd of 500 people in the conference room is asked how many people are attending for the first time.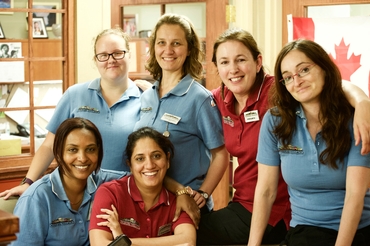 By rough guess, it seems like a third of the people put their hands in the air.
Most in the room are leaders in their respective Villages or with the Support Office, but many are direct care partners who are leaders in their own right – success award winners who demonstrate exceptional abilities in connecting with the residents they serve.
It's a fitting day to focus on the power of people in the organization's growth. People, in fact, is one of the organization's five updated "Key Success Factors," which act as guiding stars moving Schlegel Villages forward, and this success factor is about seeking team members and leaders who are "aligned, engaged and committed people who continue to grow."
In the room, it's clear how many people have grown into new opportunities to serve others, tying nicely into the afternoon session titled: Unleashing our Full Potential: Sowing the Seeds for Growth and Development.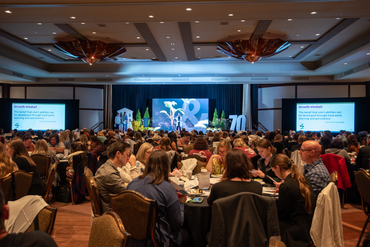 Session leaders Tamara White, Lisa Obermeyer and Christy Parsons focus on the power of a "Growth Mindset" using polling data to show that a majority of workers believe employer-provided education is crucial when people are considering a new job.
Most are eager to learn, they explain, and when opportunities are offered, these people feel and are valued.
The session leaders also remind the room that Schlegel Villages is set to build several new long-term care homes and open two new retirement homes in the next five years, which will require hundreds of new leaders. The commitment is to develop eight out of every 10 leaders from within because "leaders who are developed and grown from within," Lisa explains, "are keepers of our culture."
To look around the room is to see 500 people who value being part of a true family culture, and many of them have grown into their new positions from within.
The audience is then challenged to consider someone they have mentored in the past.
"Think about where they were when they first came into your life," Christy suggests. "Think about where they are now, think about where they want to go; all of you smiled and that smile kept growing and growing the more you thought about that person's growth."
"We are in service to team members that entrust us with their talents," she adds, before pointing out that if everyone in the room nurtured the talents of one team member and encouraged them to tap into their own growth mindset, 500 potential new leaders could carry the organizational culture into the future.
Personal development can be scary, however; people fear change, risk and rejection, but the leaders in the room are proud of the service they offer and believe in their organization's plans for mission-driven expansion into the future. They're eager to help break down the barriers of fear and support others in their personal and professional growth.